So many expenses are driven by headcount. Wouldn't it be nice if your staffing plan was connected to your financial forecast? With Jirav, it is! And now with improvements to Standard Drivers, we're making it even easier to build plans based on your actual and projected headcount.
That's just one of the highlights in our latest release. Here are all the features the R&D team added to Jirav in April.
More Standard Drivers
Improvements to existing Standard Drivers
Standard Drivers in Custom Tables
Ability to add Standard Drivers from the Drivers page
A More Intuitive Setup → Actuals page
Ability to swap accounting systems
Let's dive in!
New Standard Drivers
As I mentioned in March, we're just getting started with Standard Drivers. Here are two new options for you to build drivers from scratch without coding formulas:
Amount Per Headcount
With this driver, you can forecast an account as a function of your headcount, either cumulative or new. You can multiply headcount by a hardcoded number or reference a value in your Assumptions.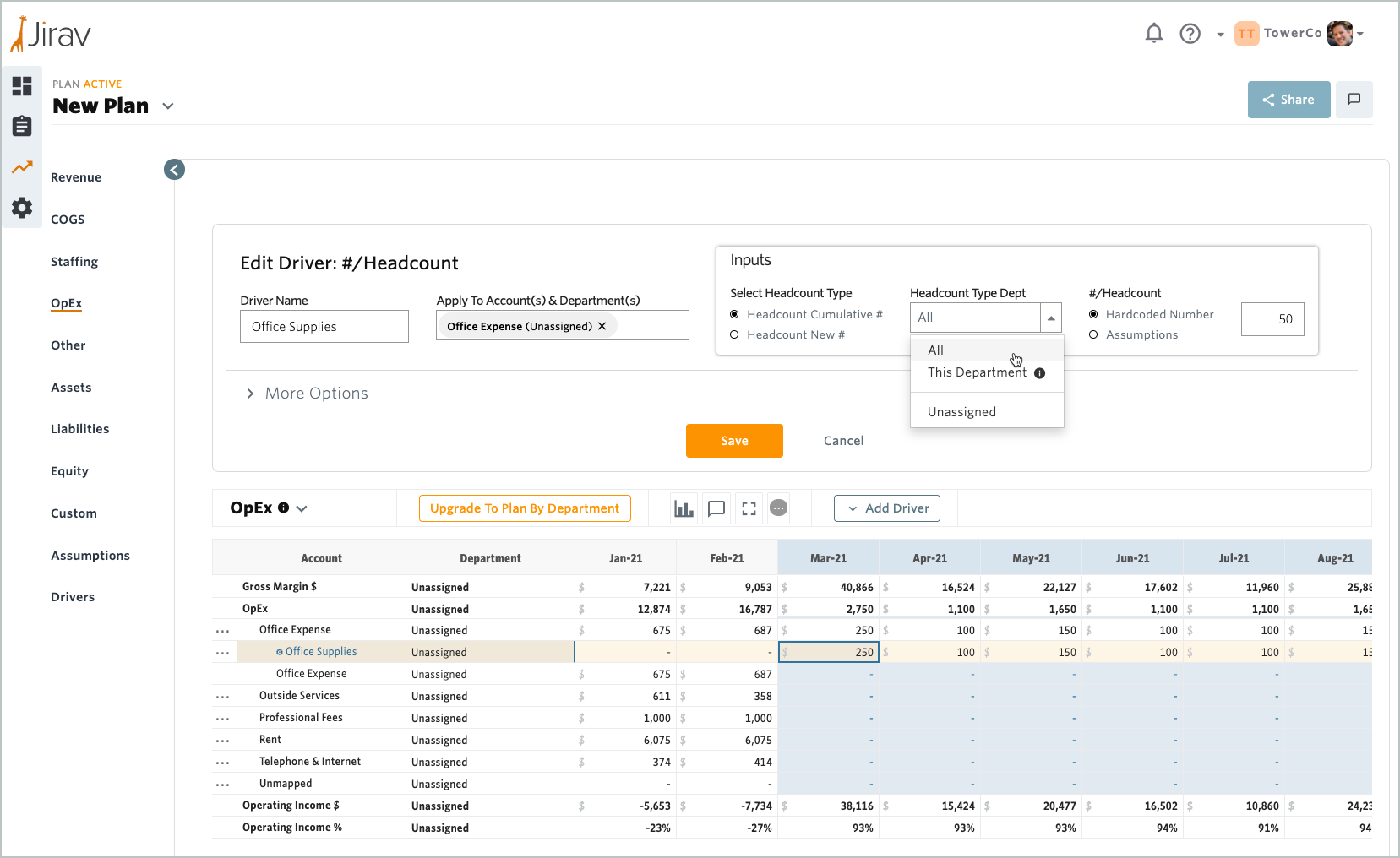 In the example above, I have forecast my Office Supplies expense as $50 per head across all departments. As my total headcount goes up and down, my Office Expense account adjusts. That means if I make changes to my Staffing tables, I can rest assured that headcount-based drivers will update automatically in Jirav.
% of Another Account
This Standard Driver allows you to quickly forecast an account as a percentage of another account. You can use either a hardcoded percentage or reference one of your Assumptions.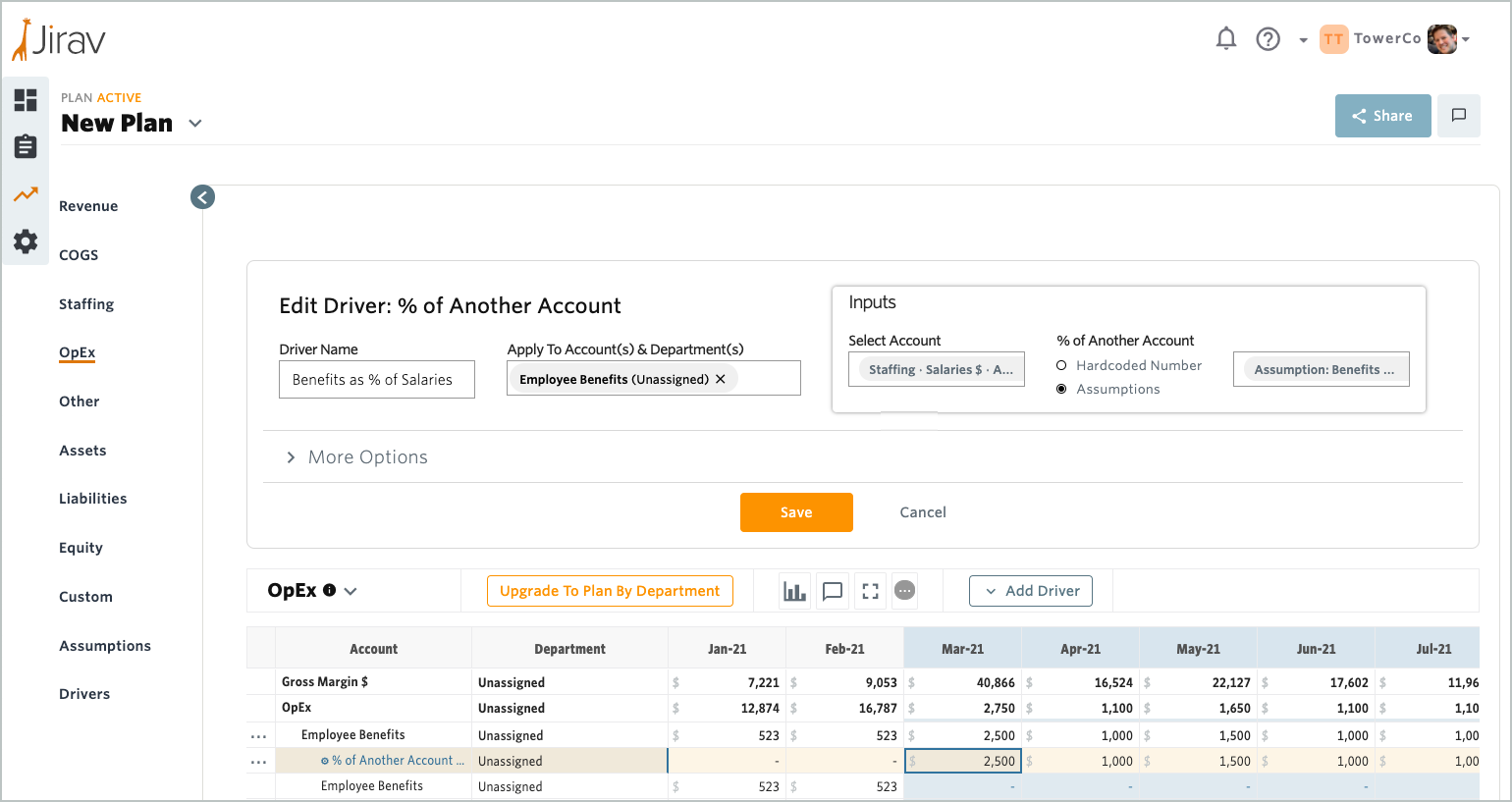 In the example above, I've forecasted my Employee Benefits as 20% of Salaries. This time, instead of hardcoding the number, I've referenced a value in my Assumptions tables.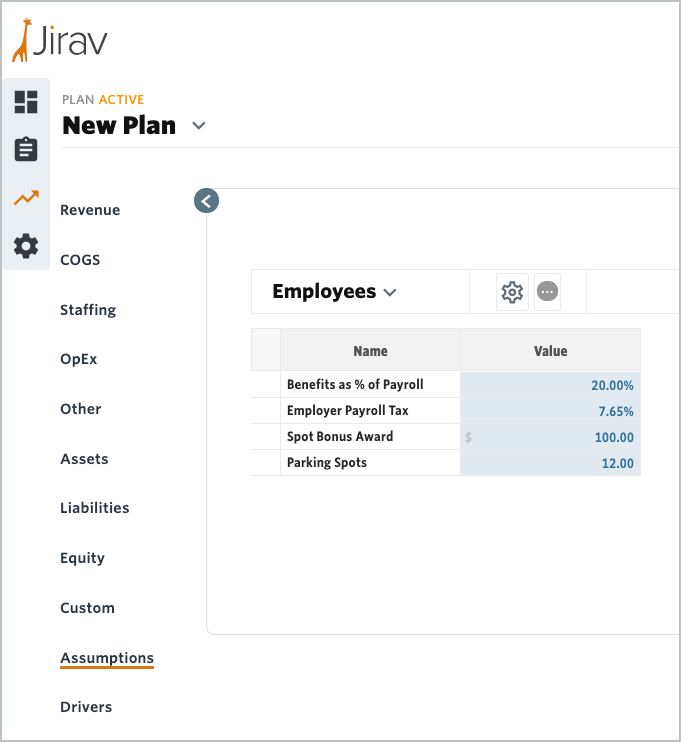 Note that you aren't limited to salaries or GL accounts with this driver. You can reference any line in your model, including lines in Custom Tables, Goals, and our KPI Library.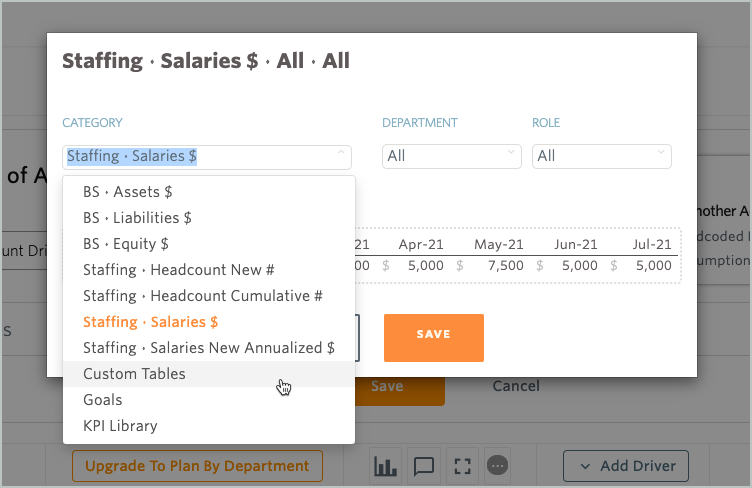 Improvements to existing Standard Drivers
We've also improved on some of the Standard Drivers released in March.
Growth on Historicals
Now you've got more options for calculating growth using historical period over period change. In addition to the same month as last year, you can also choose the full previous year. If you choose the latter option, you can allocate the result evenly or based on seasonality.

We've also enabled periodic increase by percent or fixed amount over a number of months or years. You can grow from last month, the same month last year, or a historical average (trailing 3-month, 6-month, or 12-month average).

Annual Target/Fixed Spread
We enhanced the Annual Target and Fixed Spread drivers so users can specify an Explicit Spend in certain months. If you're using a Fixed Spread driver, the Explicit Spend will not affect the driver calculation in other months. If you're using an Annual Target driver, it will adjust to keep the total amount in balance.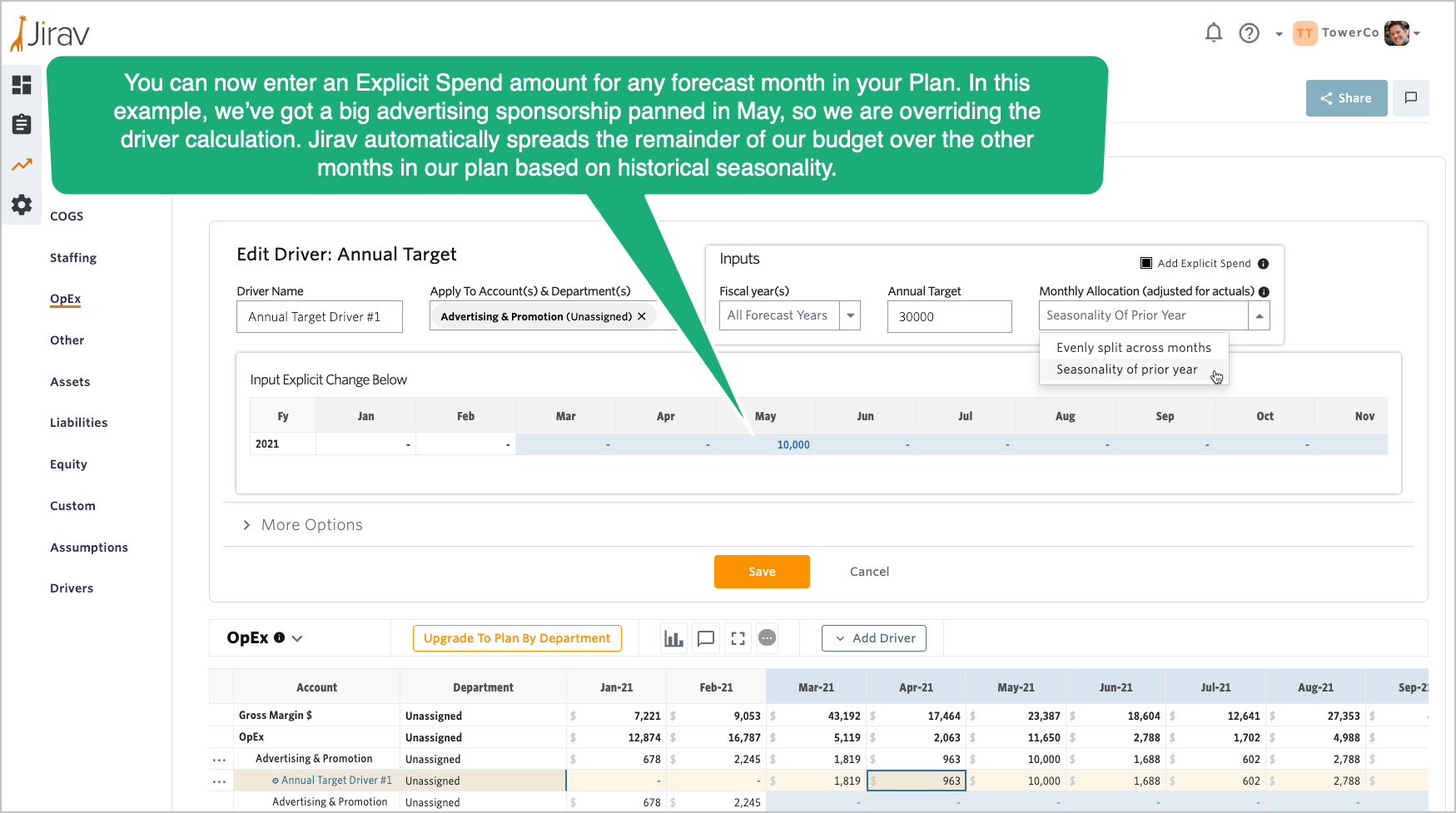 Note: At the moment you can't use Explicit Spend on lines in Custom Tables. The R&D team is working on adding this capability.
Standard Drivers in Custom Tables
Now you can add Standard Drivers to your Custom Tables. We're also working on enabling you to create Global Standard Drivers. Not using Global Drivers yet? Learn more about Global Drivers.
Add Standard Drivers from the Drivers page
Now you can add Standard Drivers directly from the Drivers page (where you can see all your Plan's Drivers in one place).
Right now Standard Drivers are listed separately from Custom Drivers. In a future release, we will list them alongside Custom Drivers in the appropriate module section (Revenue, COGS, OpEx, etc).
A more intuitive Setup → Actuals page
We've also revamped the Setup → Actuals page to make it easier to get started with Jirav.

Swap accounting systems
Finally, just about all high-growth companies eventually switch accounting systems. We're making it easier to do so by enabling you to disconnect your accounting system (such as QuickBooks or Xero) and connect to a new one (such as Oracle NetSuite), making the process of migrating from accounting software to an ERP as seamless as possible on the finance side.
Helpful April 2021 release links
That's all for now! I hope you enjoy our latest features and fixes. Here are a few helpful links to accompany our April 2021 release: