Slashed time
Clients served faster with Jirav's integrations + automation
Increased scalability
Jirav's capabilities play key part in upselling clients on additional services
Based in Boston, Vilms Consulting has been providing financial guidance and solutions for businesses since 2008. Looking to support a diverse array of clients with visibility and a clearer understanding of their financial situations, Vilms Consulting selected Jirav for financial planning and analysis. They successfully slashed time spent on manual spreadsheet updates and decreased errors and the time typically needed to track them down. The firm was also able to increase its scalability and breadth of the consulting services it offers.
Challenge
Owners, CEOs, and CFOs from a wide variety of mid-size businesses seek out Vilms Consulting to better understand, manage, and grow their businesses, because, as founder Michelle Vilms puts it: "When you understand your numbers, you make better decisions." Vilms has grown her firm from a one-woman operation to a productive and dedicated team of people. Team members provide services based on the company's core values, such as helping customers learn to use their numbers to operate their businesses more successfully. Analytics and forecasting are central to what they do.
The original tool of the trade was Excel. However, the firm's Excel-based processes presented a number of challenges as it grew. For starters, it was time consuming to set up spreadsheets for each new client. While formulas might be similar across different clients, each needed to be customized and tailored to the client's needs. But even more of a hassle was the need to populate accounting data into the various spreadsheets—and then update it all manually.
The lion's share of Vilms Consulting clients use QuickBooks Online, but hand-transferring data and then double- and triple-checking for typos and errors meant a lot of ramp up time for each client—let alone updating for periodic check-ins and planning cycles. In addition to those operational challenges, Vilms also saw the opportunity to provide additional consulting services as an upsell, but the team lacked the bandwidth and tools to increase that side of the business efficiently for their clients.
Dive into Jirav for Accounting & Advising.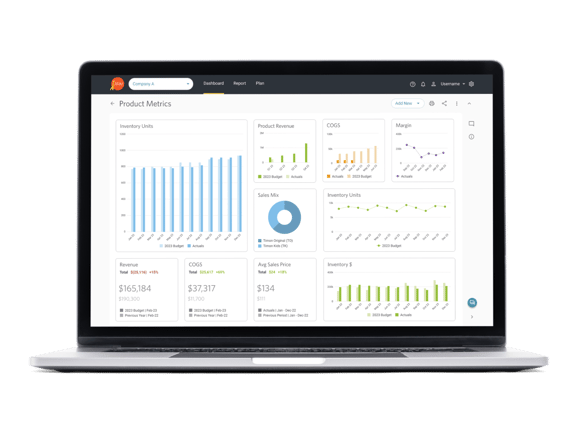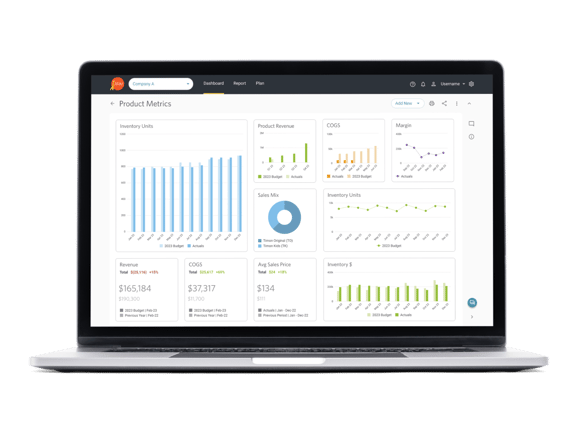 When linking things in Excel, breaks inevitably happen—it's a human process. If you automate workflows with Jirav, you can feel certain that it's always going to work out the way it's supposed to."
Michelle Vilms,
Founder
Vilms Consulting
Solution
Focusing on these challenges, Vilms was looking for a solution to scale her business and increase productivity—but she wanted to be cautious. It was important to her that any solution could map to the type of framework that she wanted to provide to her clients. Developed over years of working with Fortune 100 companies, Vilms Consulting's specialized approach was as much a part of their offering as number-crunching. After looking at several financial planning and analysis solutions, Vilms chose Jirav for its flexibility and integration with QuickBooks Online.
Results
Since adding Jirav to her firm's suite of technology solutions, Vilms has been successful in streamlining her company's operations in the way she'd hoped. "With Jirav, I'm able to increase our speed and efficiency while creating the great experience we are committed to providing to every client," Vilms says. "Financials can be daunting for clients who don't come from a financial background. They are understandably not as familiar with sophisticated financial statements. Jirav helps them see the breadth of their business and understand opportunities, so we can then work together to make a comprehensive plan."
Key to the experience is the ability to take the chart of accounts, which might be long in QuickBooks, and create a condensed version using grouping. "The deeper detail is available for drill-down, but it's easy for clients to see the bigger picture," Vilms explains. "Sure, you could do that in Excel, but it's much, much more complicated and time consuming."
Data from clients' QuickBooks accounts doesn't need to be re-typed and formatted in Excel. Instead, the Vilms team simply leverages Jirav's QuickBooks connector, and the Jirav models and reports populate instantly.
The Vilms Consulting team benefits from a less precariously maintained set of books for each of its clients. "When linking things in Excel, breaks inevitably happen—it's a human process," said Vilms. "If you automate workflows with Jirav, you can feel certain that it's always going to work out the way it's supposed to. Just verify dates, and numbers add up the way they're supposed to. Not having to go back and verify everything—or worse, track down the source of an error—is a huge time-saver across the team."
Because many Vilms Consulting clients use QuickBooks, they have access to basic out-of-the box reports available in the accounting software. However, Vilms leverages the more in-depth reporting capabilities of Jirav to deeply explore forecasts and budgets, which both educates the client in their business and provides highly refined financial analysis and guidance. Frequently, offering a preview of what Jirav offers has been key in upselling clients on additional Vilms Consulting services.
With Jirav, Vilms Consulting has taken their core philosophy and approach to financials and replicated it easily and flexibly across a variety of clients. The team uses Jirav features to tailor the experience to the type of business—for example, some clients get value by seeing their data in graphs in Jirav, while others need to see their budget by SKU. "Jirav gives us flexibility for clients while providing a consistent foundation for just about any type of client we work with," Vilms says. "We were meticulous in setting up Jirav, and we can now leverage its benefits across the breadth of our client base."
With Jirav, we were able to increase our speed and efficiency while creating the great experience we are committed to providing to every client."
Michelle Vilms,
Founder,
Vilms Consulting