Develop a fierce financial

strategy in Investment Management.
Financial Statements
Jirav enables Investment Management companies to easily prepare any type of financial statement. From balance sheets, to income statements, to cash-flow statements, and beyond – you can always stay current.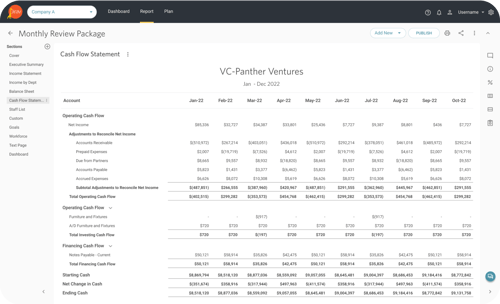 Reporting & Dashboarding
Use industry-specific templates to consolidate operational and financial data and key performance indicators (KPIs) into comprehensive reports and dashboards.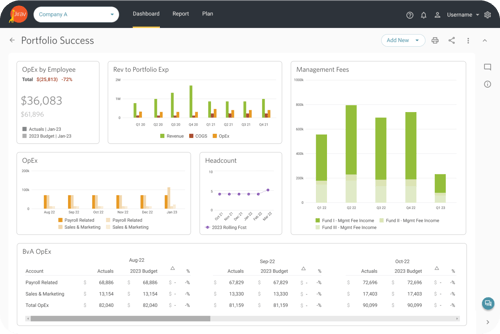 Budgeting & Forecasting
Answer every "what-if'' question, and ​​learn how to prioritize industry processes with the most value. Drive strategy, planning, and execution with the click of a button.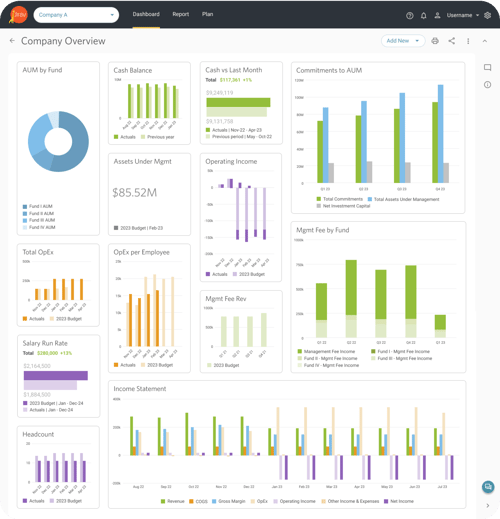 Custom-tailored models for Investment Management.
Balance risk and revenue potential, with Jirav's cutting-edge models, insights, and reports. Our pre-built models are specifically tailored to meet the unique needs and KPIs of Investment Management businesses.
Investment Management-Specific Models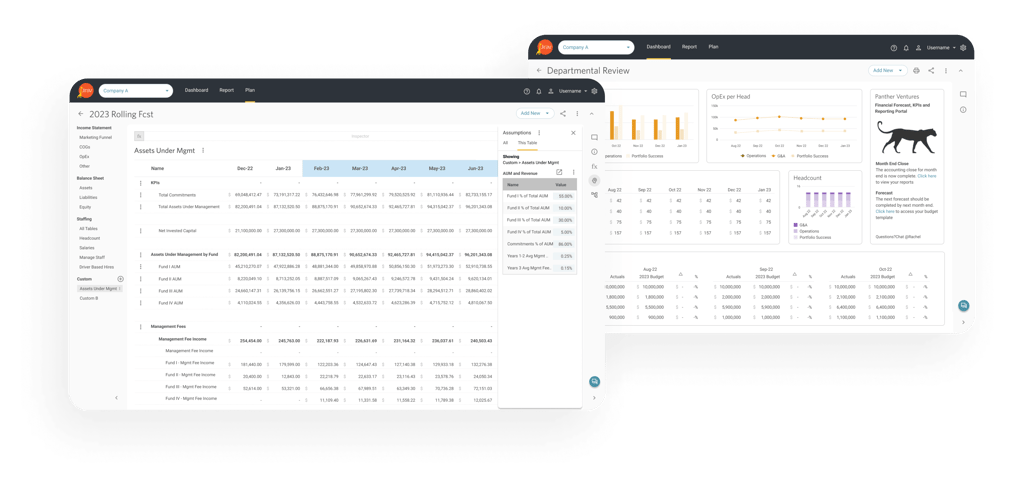 Stay ahead of the game with out-of-box

Investment Management metrics, KPIs, and charts.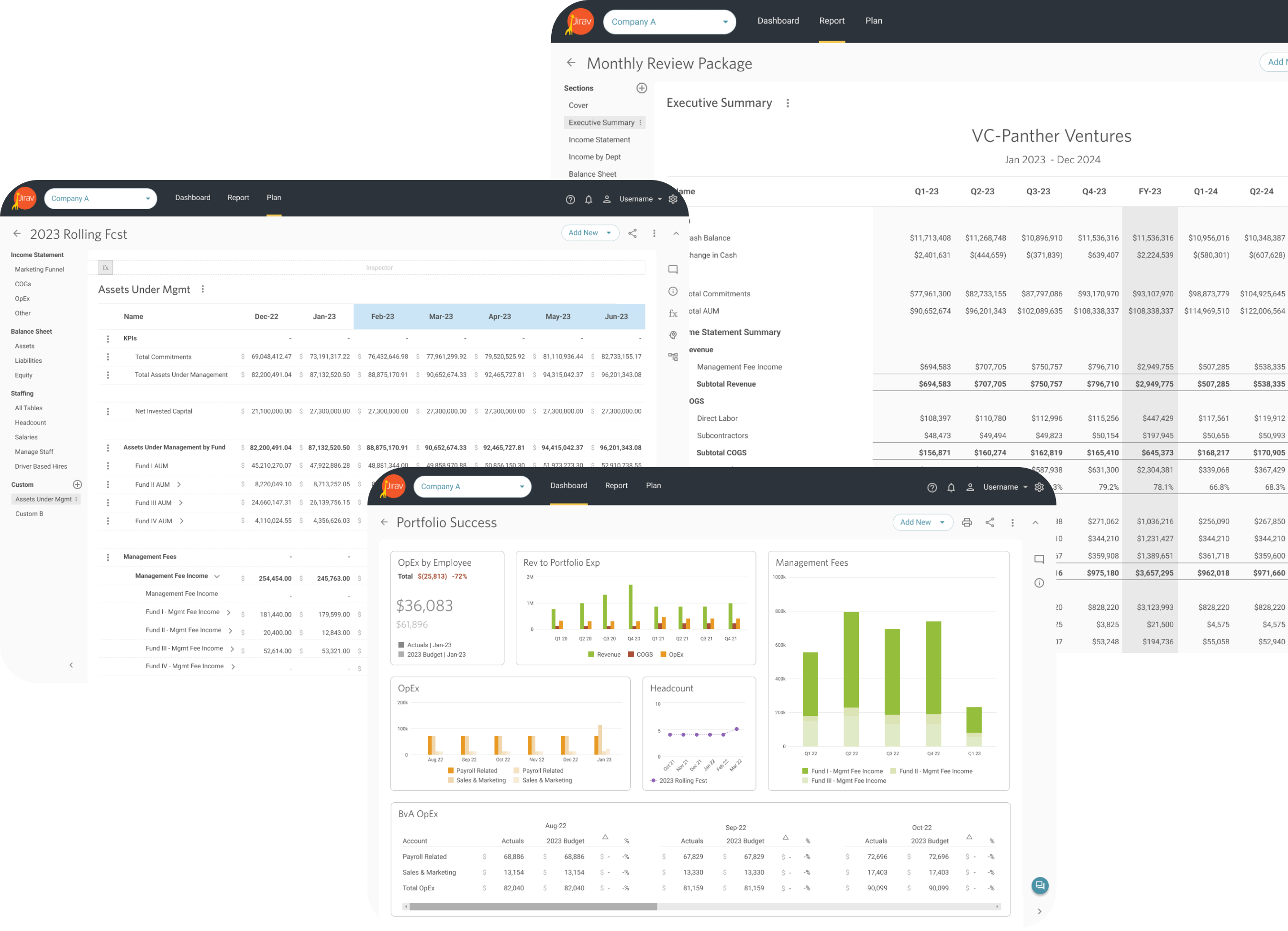 Before, budgets were only focused on the P&L. Now we can see the P&L, and also look at projections two to four years out. What's more, we can see cash balances, assets and liabilities, and see things to model out. That helps with tracking the cash we have on hand to ensure responsible growth.
Amir Salari,
VP of Finance, Weatherford Capital
The modern way
to
win
at Investment Management.
Drive Growth
With the help of Jirav, you can align your budgeting and forecasting process with your business goals to drive success and excel in your industry.
Adapt with Ease
Proactively adapt to changing regulations and market conditions, stay ahead of the curve, and meet your customer needs with confidence.
Simplify Compliance
Take the risk out of your financial model, and easily track your performance, with automated reporting and forecasting tools.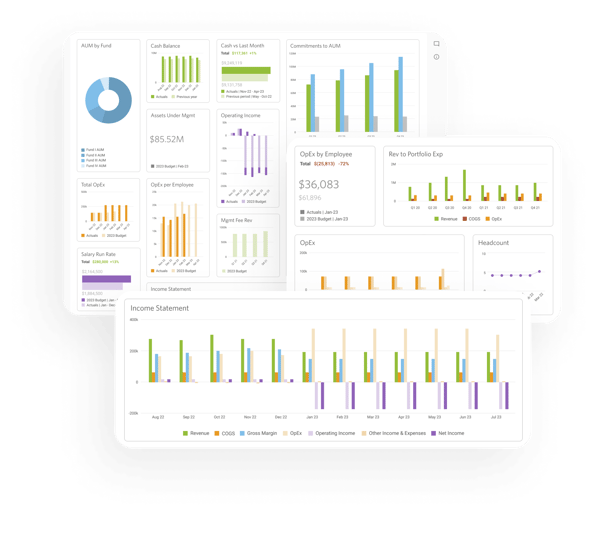 Explore our
resources.
Jirav empowers you with all you need to WIN at finance. Learn more about how to upscale business processes with the most value.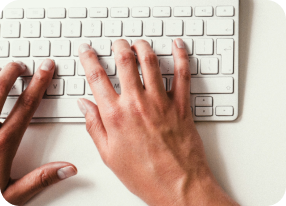 Blog & Guides
Our blog is home to regular updates and articles, covering everything from industry news and trends to expert advice and analysis. Whether you're looking to streamline your processes or stay up-to-date with trends, there's something for everyone.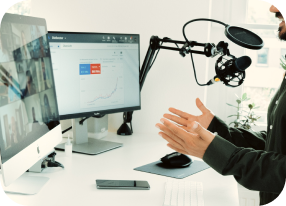 Webinars
Hosted by industry experts, our webinars offer a unique opportunity to interact with thought leaders and gain valuable insight to uplevel your financial planning.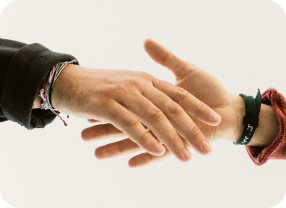 Customer Stories
Here, you'll find real-life case studies shared by our customers, highlighting how Jirav has made a difference in their financial planning. From small startups to large organizations, our solutions give businesses a modern way to win at finance.
The last demo you'll
ever need.
Drive more growth in your Investment Management business. Watch a demo specific to your industry to see how Jirav's driver-based software can help you stay ahead of the game.