A better way to budget, forecast, and plan
Traditional FP&A solutions are too complex and expensive for today's growth companies, while Excel is too fragile, frustrating, and cumbersome. Jirav simplifies FP&A and delivers the insights you need faster than any solution available.

Jirav was built by finance professionals for finance professionals, and is continuously refined by the more than 3,500 businesses using the platform.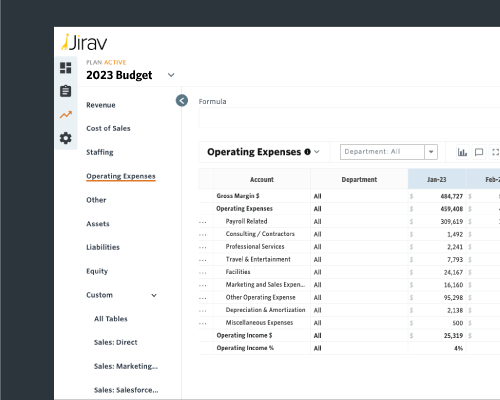 Plan for any scenario
The business environment is historically unpredictable, but your finances don't have to be. Create plans to test multiple scenarios to optimize your company's success.
Track actuals against plans
Easily track actuals against multiple plans to determine how your business is pacing and quickly identify opportunities and risks.
Let the solution do the hard work for you
Use pre-built reports, industry-specific 80% plans, pre-configured integrations, and thoughtful features to get historical insights, powerful forecasts, and budget vs. actuals fast, with the ability to completely customize.
Enterprise-grade insights and tools built for growth companies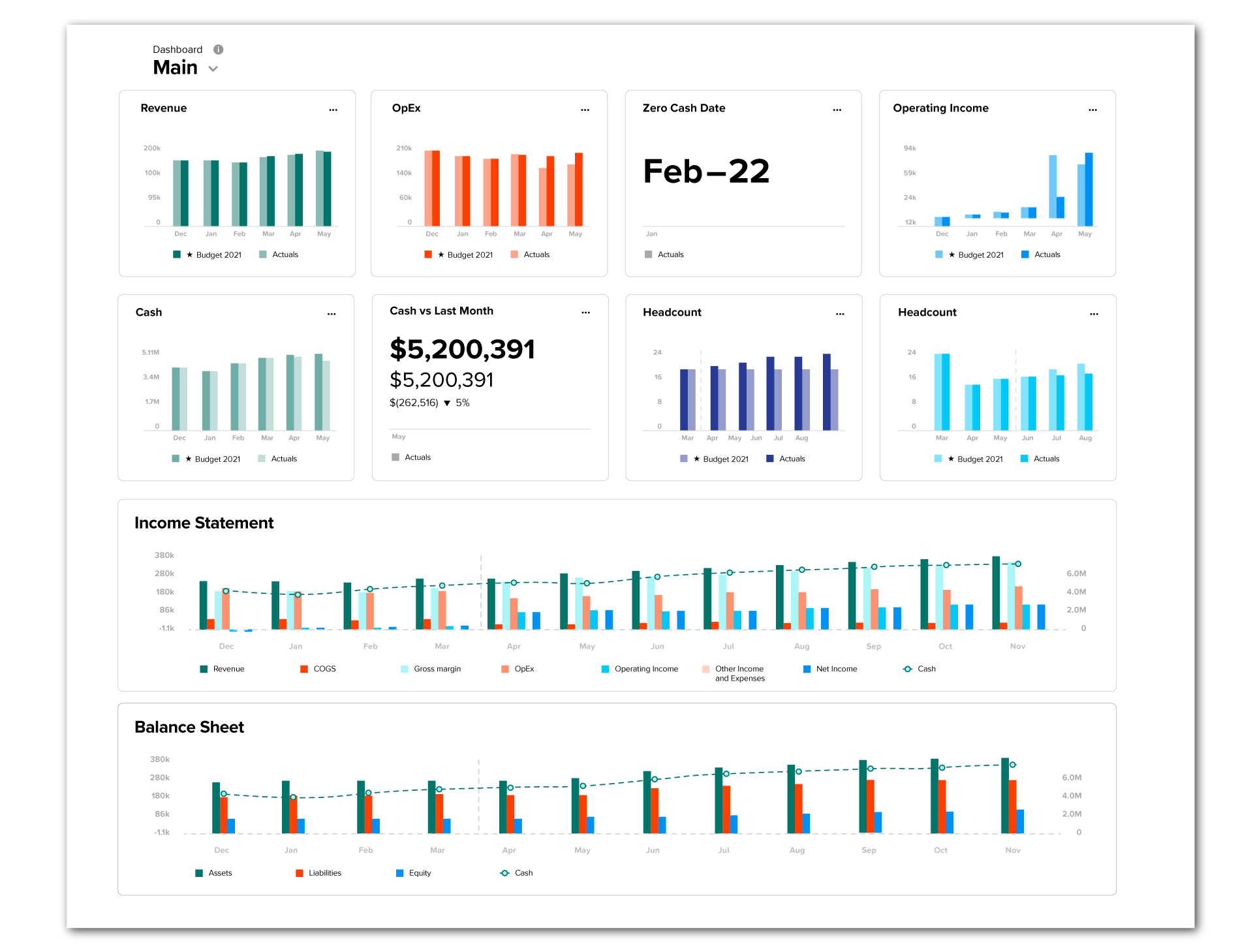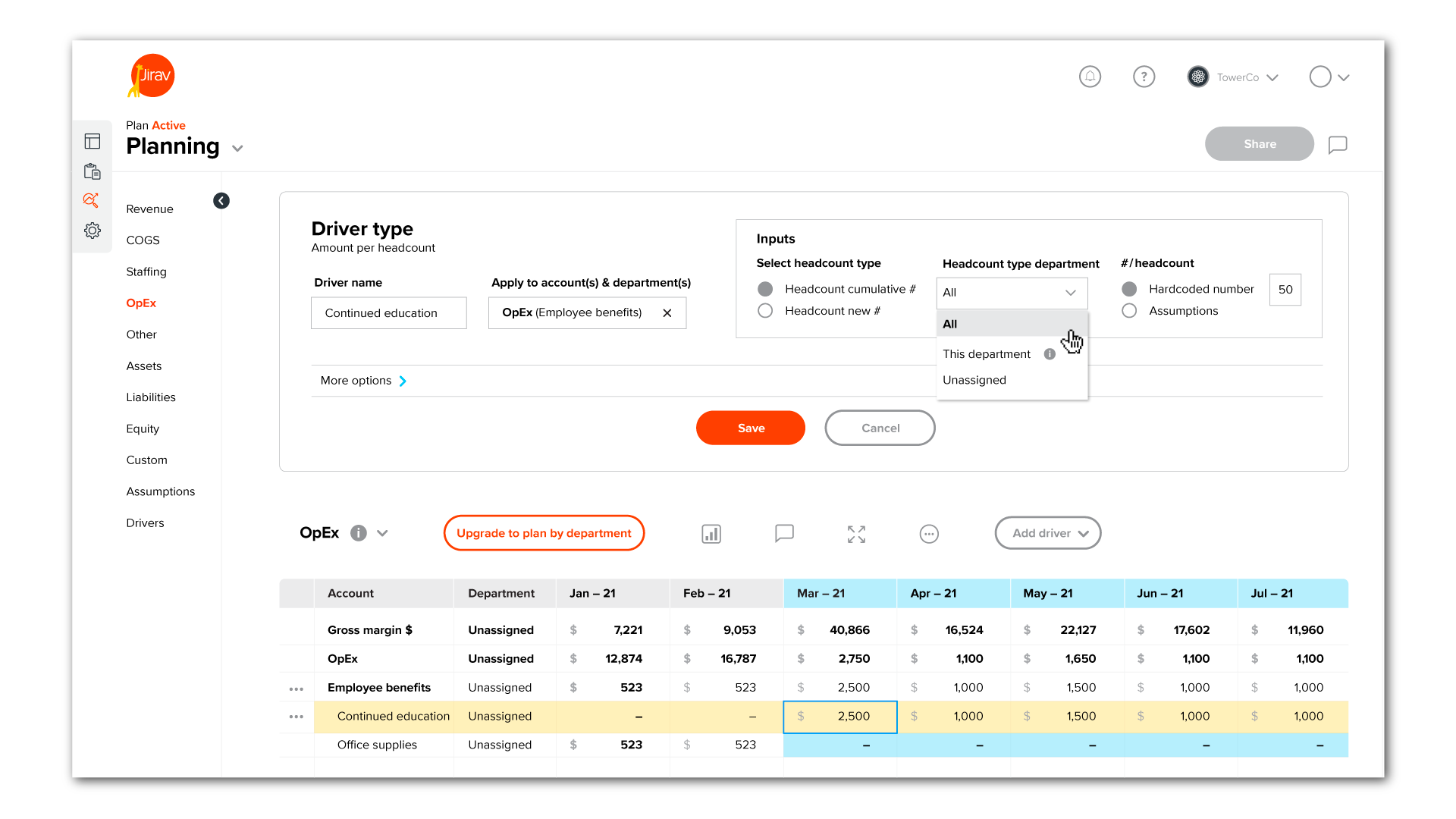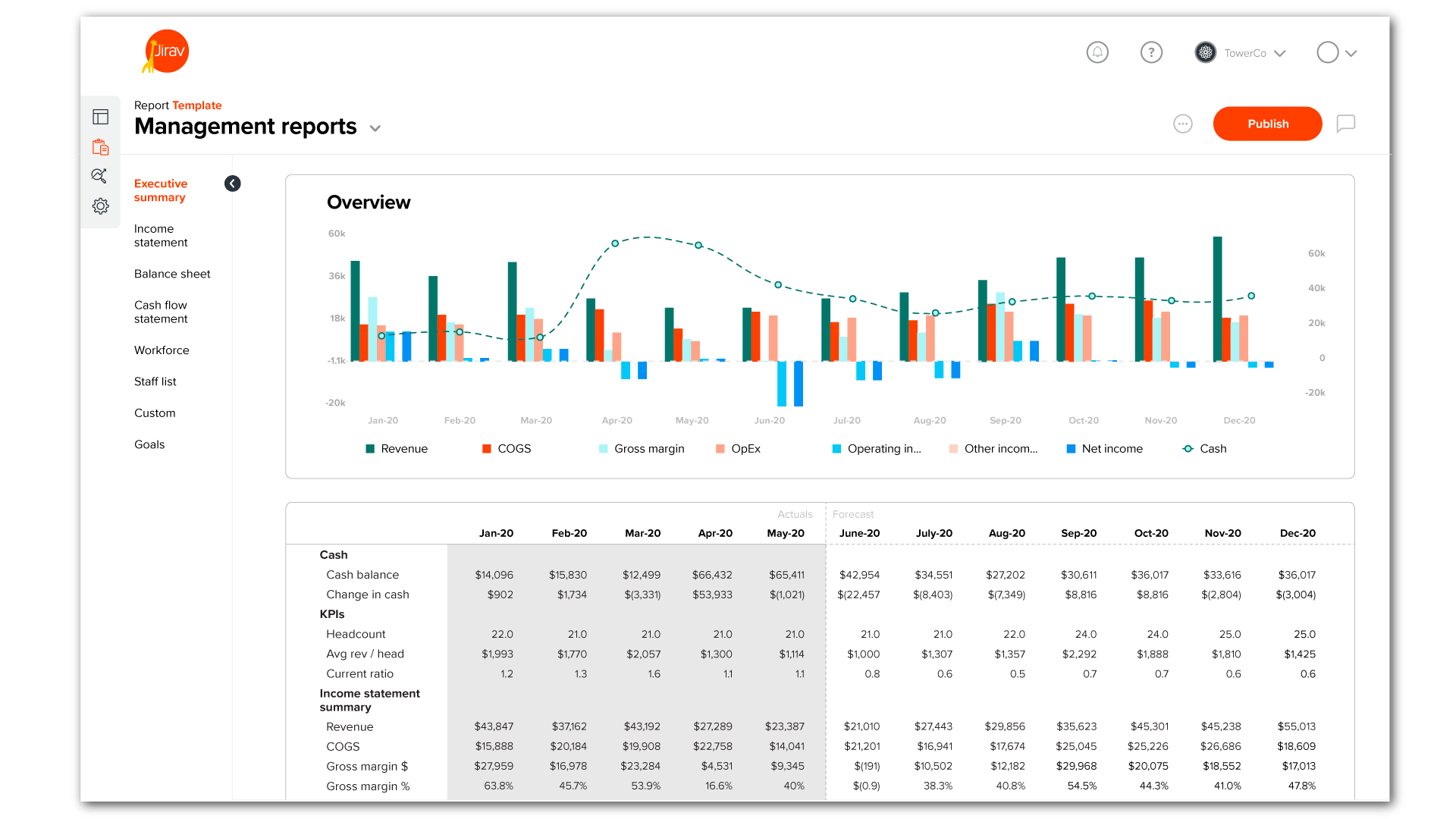 I've been looking for this software for ten years, across multiple different startups. I wanted FP&A for growth companies that can integrate with QuickBooks and analyze plan versus actuals. Jirav does what a growth company needs
Andrew Eye,
CEO and Co-Founder,
ClosedLoop
It starts with easy, yet powerful integrations
Integration is the key to automation, and Jirav can connect to your existing tech stack in seconds. Our integrations don't require custom code, months to set up, or costly consulting services. In just a few clicks, you'll have meaningful, valuable insights.

Trust us—not all integrations are equal. Don't believe it? Give us a call and we'll connect your accounting system and generate your 3-statement financial reports right before your eyes.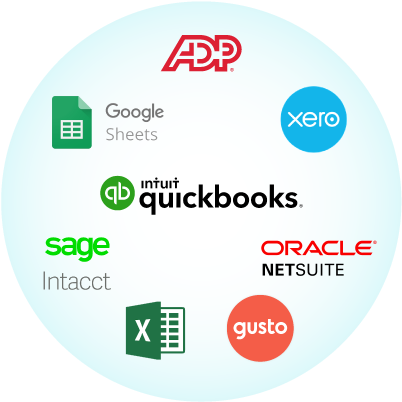 Next, gain immediate access to "hindsight reports" and 3-statement financials
After integrating your accounting system, you're just a few simple steps away from access to your balance sheet, income, and cash flow statements, plus a customizable dashboard pre-populated with commonly-requested tiles to help you visualize historical performance.

Operate at scale with the time you'll save using Jirav's automation capabilities vs. trying to produce 3-statement financials and dashboards in Excel or directly within your accounting system. But this is just the beginning—the real insights begin in the next step: planning.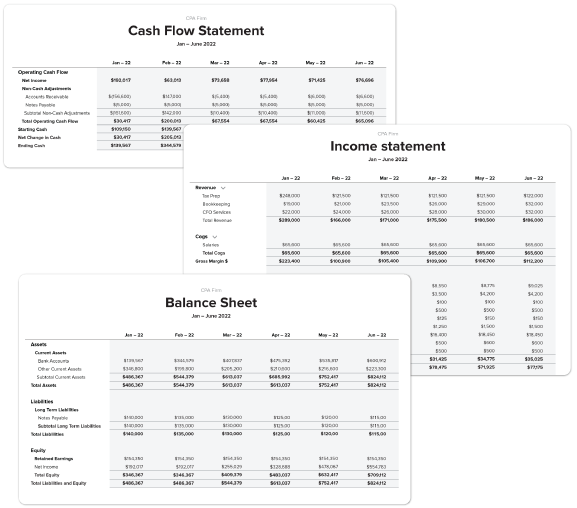 Create strategic foresight with driver-based plans and forecasts
The forward-looking "windshield" view has never been more critical. With Jirav, you can design models, plans, and forecasts quickly, easily, and intuitively.

Jumpstart the process with access to industry-specific 80% plans right out of the box, then customize them to perfectly fit your business. And with driver-based models, you can create dependency across various parts of the business or to specific assumptions. Drivers can be custom-designed from scratch or selected from a catalog of common, standard drivers.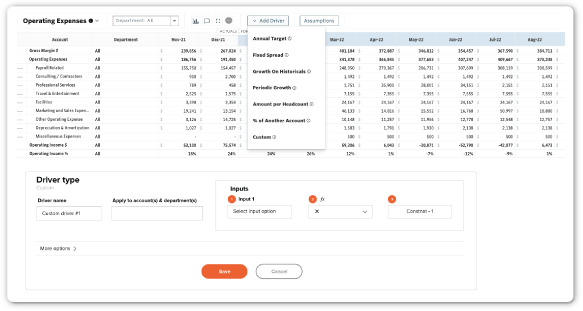 Manage the business with variance, BvA and performance reports
With your models in place, test against multiple scenarios and begin to track "budget vs. actual" (BvA) and variance to stay ahead of an ever-changing market.

The ability to effortlessly and easily track actuals against multiple plans is the key to successfully managing your business. With regular scenario analysis, you'll get early indications of the need to shift strategies to capitalize on greater opportunities or mitigate risk.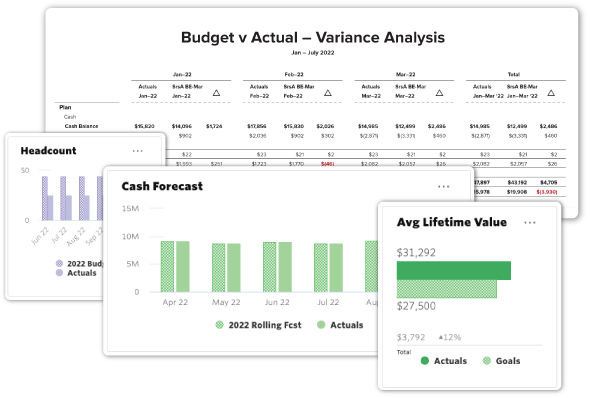 Share, comment, and collaborate to get the entire company involved
The final key to unlocking operational excellence is collaboration. Use Jirav's collaboration features to come to a quicker agreement on strategies and keep the business on track with all of the stakeholders on the same page.

Share all or just specific parts of plans and reports for easy viewing and editing, and add comments prior to sharing or building reporting packages to question or explain specific insights, anomalies, successes, or risks.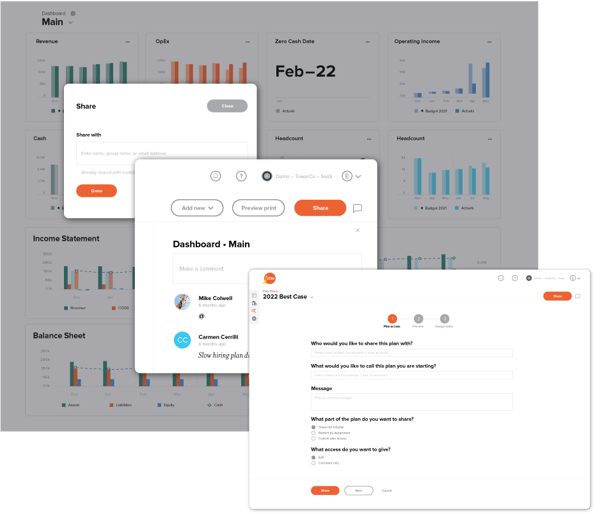 Additional Jirav Capabilities
Report packages
Automate investor packages and key reports, eliminating the time wasted on spreadsheets.
Cash flow analysis
Know exactly how much runway you have, forecast zero-cash day, breakeven, or other financial milestones.
Rolling forecast
Build and adjust forecasts based on actuals. Predict how the month or next 5 years will develop.
Project sales and revenue
Project sales and revenue based on headcount, marketing spend, or any metric you want.
Sales & workforce planning
Use Jirav for xP&A or non-financial data planning to build and offer a complete strategic picture of your company.
Model capital expenditures
Model the effects capital expenditures will have on your forward-looking financial statements.
Dashboards
Visualize data with customizable dashboards, incorporating both financial and non-financial metrics.
Forecast runway
Forecast runway 6, 12, or even 60 months in the future with integrated cash flow forecasting.
Revenue recognition
Recognize revenue in the proper period with deferred revenue drivers.
Departmental budgeting
Budget by department with automatic rollup into the company plan of record.
Expense allocation
Allocate overhead expenses among multiple departments with simple formulas.
Annual operating plans
Use driver-based modeling to create and manage operating plans and budgets faster than ever.
Recommended by CPA.com
We are proud to be the preferred FP&A and planning solution of CPA.com. As the world's largest member organization representing the CPA profession, CPA.com chooses their partners carefully and intentionally, and we are honored to be the only FP&A and planning solution to receive their endorsement.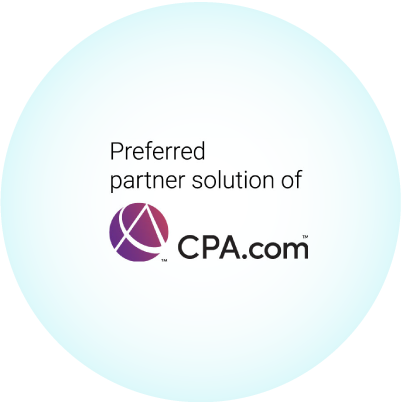 Before Jirav, forecasting cycles took about two weeks. Now with Jirav, I'll complete the forecast in hours (including closing books and revenue recognition), and I am able to model sensitivity scenarios and develop mitigation plans.
JOHN WALLACE,
Chief Financial Officer,
Arteria