Virtual accounting firms are not a new concept, and most leverage technology to perform the services they offer. But for firms like AccountingDepartment.com, who serve a wide range of client industries and sizes providing highly responsive, high-touch service, traditional tech like Excel sheets and other desktop FP&A solutions just don't cut it.
In fact, AccountingDepartment.com found that each client report required approximately one hour of time when using a mix of Excel and QuickBooks solutions. And that hour was calculated before considering any additional, last-minute metric requests from clients.
Downloading reports into PDFs, locking files, closing books, compiling all individual files into one file, resizing where needed, reviewing, adding notes, saving versions and sending to the controller, plus password-protecting each file along the way—each part of the process was highly manual and not collaborative.
A solution to improve the overall client experience
If AccountingDepartment.com was to hit their aggressive growth targets, they needed to standardize processes to increase efficiency. But beyond just saving time, they wanted to expand and deepen their relationships with customers by providing higher-value advisory services, which accountants hardly had the bandwidth to offer as they drowned in manual, time-consuming processes.
The AccountingDepartment.com story is familiar for many in the financial services space, and it's why CFOs and financial teams have embraced Fintech, including cloud-based FP&A solutions. As finance professionals continue to strengthen their client relationships and improve the overall client experience, while offering next-level advisory services, implementing the right FP&A technology becomes a need, not a "nice to have."
Greater efficiencies = more room for advanced, higher-value capabilities
Ultimately, AccountingDepartment.com chose Jirav as their solution, and planned to roll it out to their 200+ clients. "We realized that while there were plenty of good choices for addressing our more immediate challenges regarding reporting, when it came to enabling our bigger-picture goal of providing advisory-level services, Jirav was in a class of its own," said Cathy Becker, a senior controller at AccountingDepartment.com.
Jirav's visual dashboards make reports more accessible and bring deeper insights within reach. "Now we're giving clients executive reports with visuals showing cash, profitability, headcount and salary data if they want it – really zeroing in on what's most important to them," said Becker. The strategic move to Jirav's platform has activated their growth strategy, and is already showing the results AccountingDepartment.com firm leaders had planned.
To learn more about their journey to a more efficient and value-adding way to serve their clients, read the full AccountingDepartment.com case study.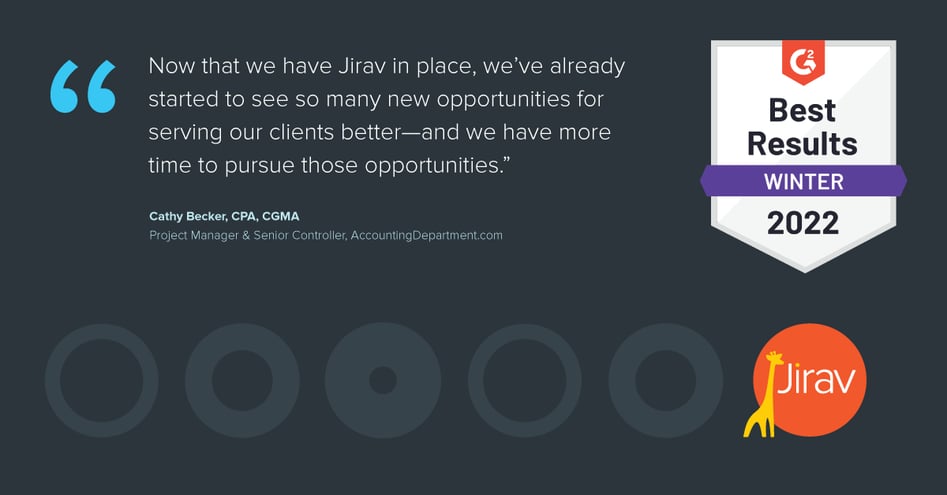 ---