"They don't teach you this in CPA school." If you're like Dawn Brolin, CPA, CPE, you've probably felt similarly about financial planning and analysis, or FP&A. As more accounting firms and professionals understand FP&A—and, more specifically, the advisory services that fall within FP&A—and the benefits these services can provide clients while also growing their firms, the trend is growing.
At Jirav, we're driven by a passion for financial excellence and a relentless desire for the success of our customers. FP&A can be tricky to understand and master, but we believe that expanding your firm's offerings to include FP&A services and strategic advisory is critical to future success and staying relevant in the industry. Offering strategic advisory elevates your client relationships from bookkeeping and simple reports into becoming a long-term strategic partner.
If you missed our recent webinar, Dawn Brolin, founder of Powerful Accounting, Inc. and creator of The Designated Motivator, and Mike Triantos, head of accounting partnerships at Jirav, did a deep dive into FP&A advisory services and how Dawn's clients have benefited since she's added these offerings.
They also explored how to develop a strategy for implementing advisory services in your accounting firm by leveraging technology, breaking it down into three parts:
Addressing the fear factor of advisory services within accounting firms

How to structure and sell advisory services

How to launch an advisory practice to serve the needs of your clients
We'll dive into the key aspects of the presentation here to learn how advisory services can help you expand your firm and serve your clients better, but you can also watch the full webinar on-demand now.
Building an advisory foundation
When it comes to adding advisory services to your accounting firm, eliminating the fear factor is the first step. Many accountants are afraid to add advisory services for a few reasons: they think it's too complex, they're unsure how to get started, or they may just not fully understand what advisory really entails.
However, as Dawn and Mike explained in the webinar, while FP&A can seem intimidating at first, it's not actually that complicated, especially if you leverage the right technology to help deliver the services.
Dawn worked with various firms, both big and small, and had always prided herself on being up-to-date on the latest technology and trends. But when she was introduced to Jirav, she was shocked to learn that there was an entire world of financial planning and analysis that she had not capitalized on.
Through Jirav's ADP integration, Dawn learned about this new field and understood how it could benefit her clients. She realized that she could work with fewer clients and make more money on a recurring basis, and—more importantly—she also saw how FP&A advisory could help her clients make better decisions about their businesses. Thanks to Jirav, Dawn could expand her knowledge and grow her business in a way that she never thought possible. So while Dawn felt that initial fear and lack of understanding around FP&A, she quickly realized that the importance of offering FP&A advisory for the betterment of her clients outweighed the fear of implementing it within her firm.
Once you can remove the fear associated with FP&A and advisory and build confidence around offering these services, you can then start exploring how to structure and sell advisory services within your firm.
Modern accounting firms embrace FP&A
In the webinar, Dawn shared that many accounting firms lack the knowledge and understanding of FP&A, and as a result, they're missing out on a huge opportunity. The service model for FP&A looks very different from traditional accounting services, but it is incredibly powerful.
The key is to understand why FP&A advisory is so valuable and how it can help businesses grow. When firms take the time to learn about FP&A and implement it in their offerings, they will be able to provide an invaluable service to their clients and reap the rewards.
Structuring your FP&A advisory services
The presentation continued by discussing that as the accounting industry evolves, so too must the services that accounting firms offer. It is becoming increasingly important for firms to provide value-added services that go beyond traditional tax and auditing work to stay competitive.
Financial planning and analysis is one such area where accounting firms can provide valuable insights and advice.
Dawn demonstrated that there are essentially four tiers of FP&A services that firms can offer:
Traditional write-ups
Business process outsourcing
Virtual controllership
Collaborative advisory/outsourced CFO work
Traditional write-ups include cash reconciliation and general ledger/trial balance work.
Business process outsourcing encompasses activities such as accounts payable and receivable.
And finally, virtual controllership and collaborative advisory are essentially outsourced chief financial officer-level services encompassing financial modeling, financial strategy, and market analysis. This costs the most and provides the most intensive financial assistance to your client, but it is not as time-consuming as preparing taxes with the bonus of generating much more revenue.
Pricing your advisory services
Dawn asked:
Would you rather make $1500/year on a corporate tax return or $1500/month on the same client offering advisory services that mean something?
The answer should be the latter (and ideally both).
She shared a hypothetical pricing sheet that scales with the advisory service your clients need.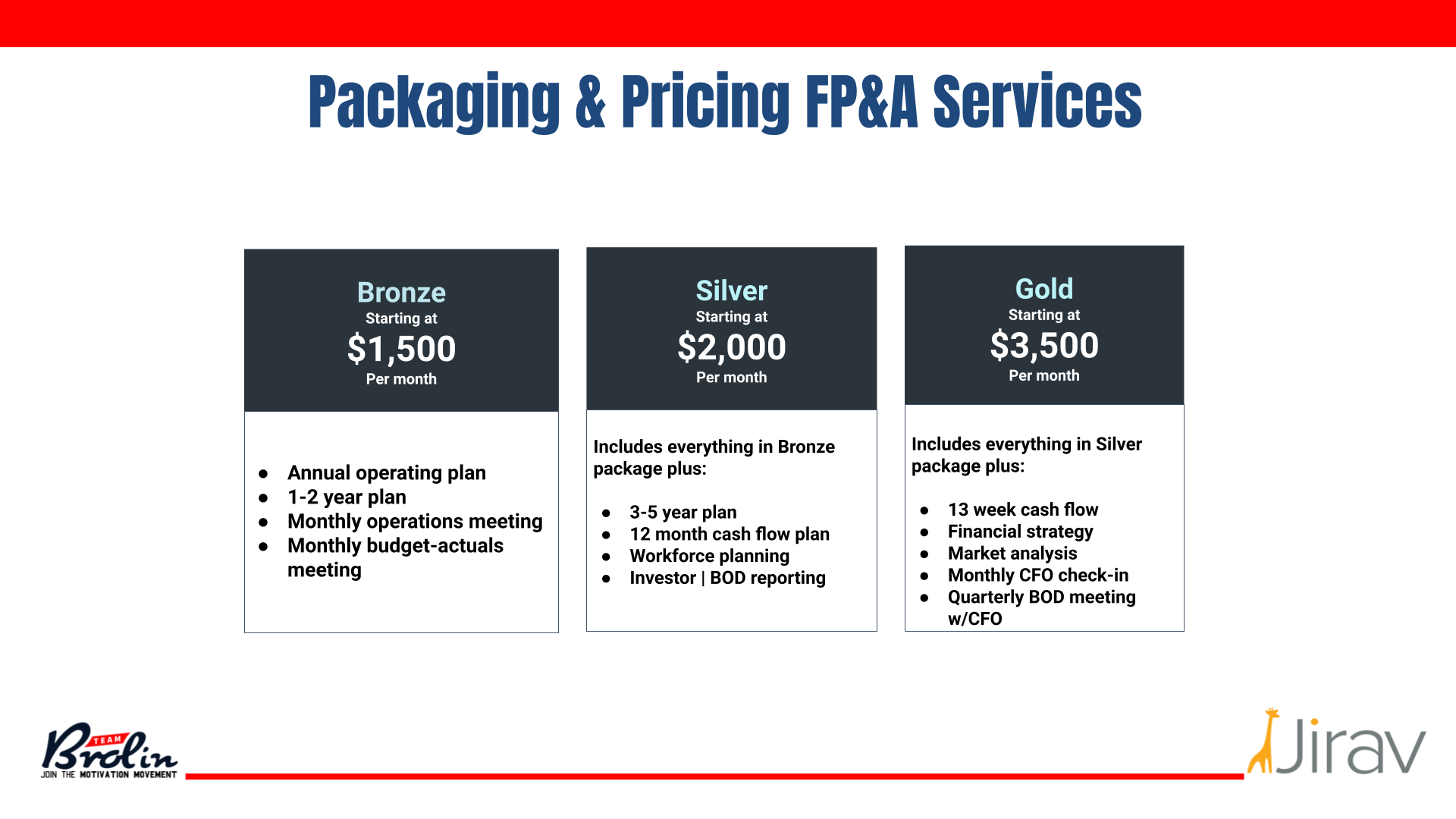 As you can see, there are plenty of ways to integrate advisory services into your practice while maintaining your core function as an accounting firm.
Launching your advisory services
The accounting profession is at an inflection point. Technology like Jirav is creating immense opportunities for firms to offer new, advanced services as they scale. But to take advantage of these opportunities, firms need to have the proper education and partner experience.
In the webinar, Mike walked through a rollout strategy that broke the process down into a five-month, "crawl, walk, run" approach. Implementing FP&A advisory services is a big step for your firm, but there's no need to make the rollout more complicated or stressful than it needs to be. Mike's example shows a practical approach to an FP&A rollout strategy, and he explains how Jirav works with firms to ensure they have the necessary training for a successful launch.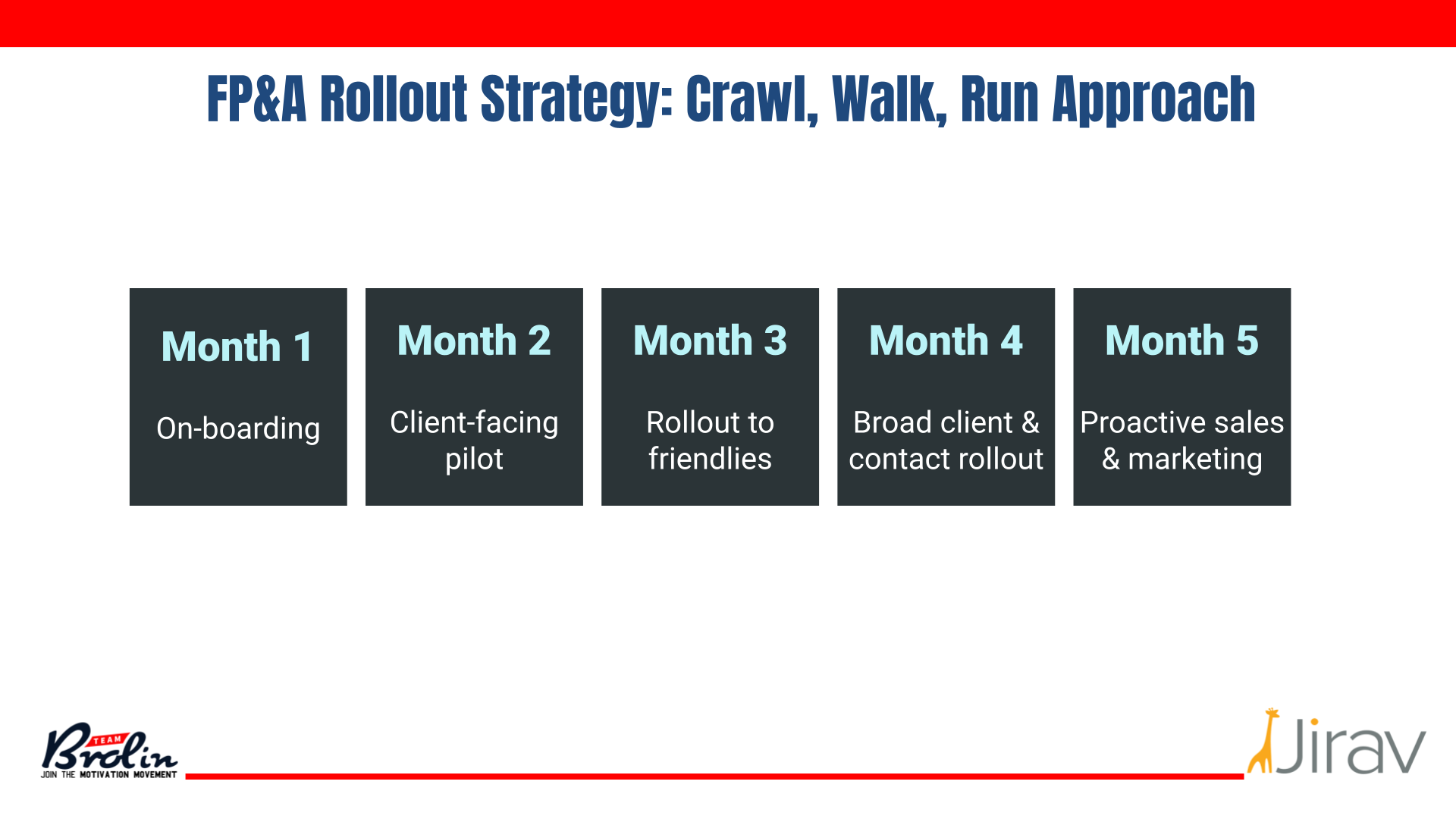 Month 1—When you work with us, you get a partner in FP&A, not just another vendor. Our support is best in class, and we'll help you take the leap into advisory, ensuring you understand FP&A and its value for your firm. In this first month of your FP&A rollout, you'll work with a team of experts at Jirav to onboard and train on the platform.


Month 2—As Mike mentions, we recommend starting your rollout with a small pilot program, ideally with a client you know well and are comfortable working with, so that you can learn the process together.


Month 3—After the initial pilot, you can start rolling out your FP&A practice to more of your "friendly" clients.


Month 4—Once you have a feel for the process after rolling out the program to your pilot clients, you'll likely have a better understanding of how you will package and price your services, and can then smoothly roll out your new service offerings to the rest of your client base.


Month 5—

Now that you've successfully rolled out your FP&A practice to your existing clients and your pricing and packaging structures are in place, you can begin to proactively market and sell your services to new clients. At Jirav, we provide the education, tools, and resources necessary to not only use our platform, but also how to sell its features and functionality from a go-to-market perspective.
The future of accounting
As the webinar came to a close, the conversation turned to the future of advisory practices and how the best accounting firms will adopt new technology. The firms that succeed in the future will integrate with other finance software, enabling them to provide new services and financial planning to their clients.
Expanding their firm's offerings to include FP&A advisory services will help firms grow while simultaneously turbocharging their revenue. The panelists also discussed how important it is for firms to stay abreast of changes in the marketplace and to be able to adapt quickly to new opportunities. They concluded by inspiring firms to continue innovating and providing value-added services to their clients.
We covered many of the key points from the webinar, but it's definitely still worth a watch to hear Dawn's first-hand experience in launching her own FP&A practice. Fill out the form below to download the recording!
Watch the on-demand webinar now!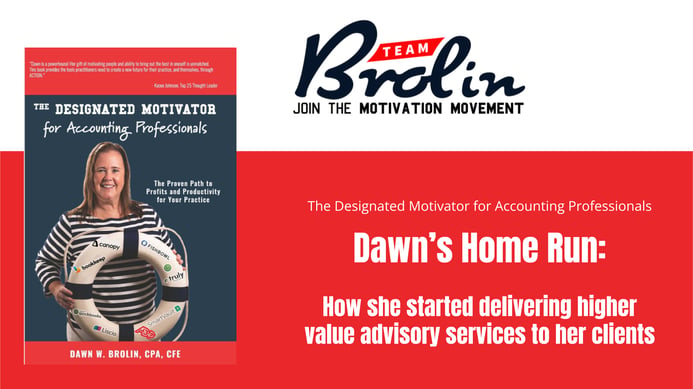 Together, we can help your firm realize its full potential and build a bright future for growth and client success. Reach out today to learn how you can partner with Jirav.