We're excited to announce that Jirav is now an ADP Marketplace partner, providing an integration to the RUN Powered by ADP® platform so Jirav and RUN clients can connect and share data across their HR platforms. You probably know ADP—they're the leading global provider of HR, talent, time management, benefits, and payroll solutions. The Jirav team loves working with ADP because we feel they share our passion for helping accounting firms create more success by leveraging technology.
Mike Triantos, our Head of Partnerships at Jirav, said it best: "Jirav believes that technology should be leveraged to replace complex manual processes to drive efficiency, reduce costs, and improve client satisfaction." This new integration with RUN will help firms achieve all of this and more. So how does the integration work, and what does it mean for ADP and Jirav customers?
"Integrating ADP's workforce data into our FP&A solution helps enable our joint customers to serve their clients better, offer more powerful advisory insights, and fully utilize automation to provide client deliverables faster, ultimately leading to stronger business results and longer-lasting client relationships," said Mike.
Financial planning and analysis (FP&A) without data is, well, nothing. FP&A processes lean most heavily on two data sources: data from your general ledger and your workforce data. The workforce is often both your greatest expenditure and how budgets and forecasts are typically organized (think org structure or departments).
The Jirav integration with RUN just makes sense—it will help firms use the insights from their workforce data in their FP&A processes, and it's critical in helping our joint customers get the most out of their Jirav investment. The new capabilities will also help accounting firms leverage the automation and efficiencies Jirav can provide as they offer fast, accurate, next-level FP&A advisory services to their clients.
How do you connect Jirav with ADP?
Connecting Jirav to RUN is simple. First, you'll need to download the connector from ADP Marketplace.
On ADP Marketplace, you'll follow a few simple steps to download your "Integration Key," which is the super secure key that connects your Jirav and RUN systems. From there you'll use the integration key to set up the connection in Jirav.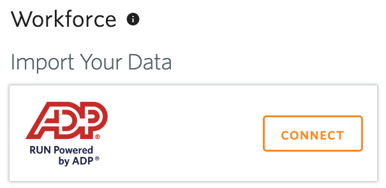 Once connected, you'll need to complete some simple drag-and-drop mapping of your ADP data, and then you'll be mapped and ready to use your data in plans, reports, and insights. After your fields are mapped, tasks like comparing headcount actuals against your forecast, as well as many other reports become quick, easy, and accurate.
For step-by-step instructions on how to connect your Jirav account with RUN, please review our knowledge base article.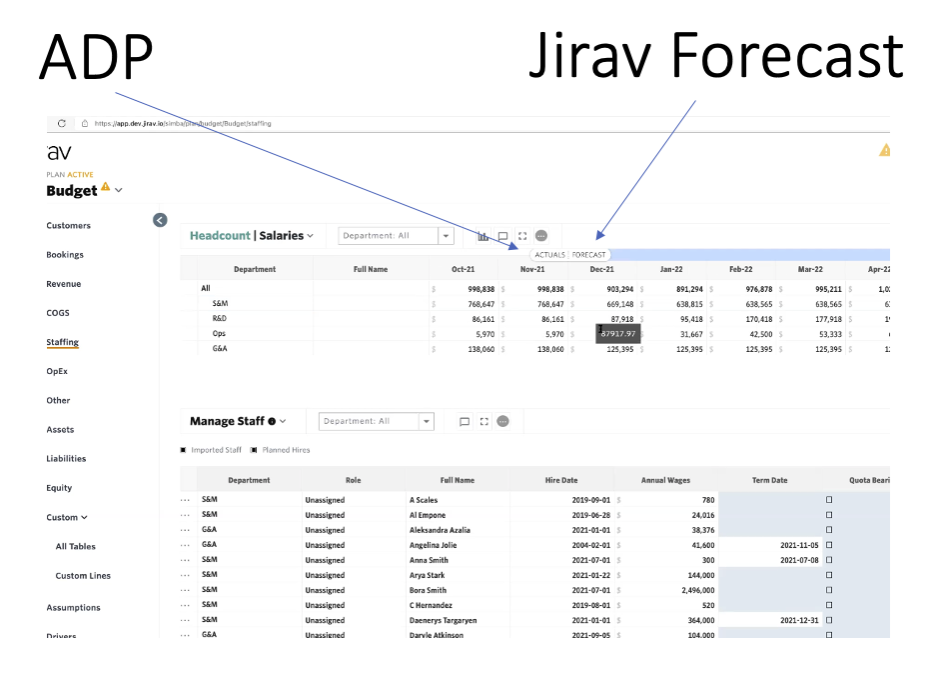 Examples of advisory services
Once firms are up and running with Jirav, their typical next steps are to build dashboards and make traditional services like income statements, balance sheets, cash flow statements, workforce and management reports, and variance analysis reports more efficient.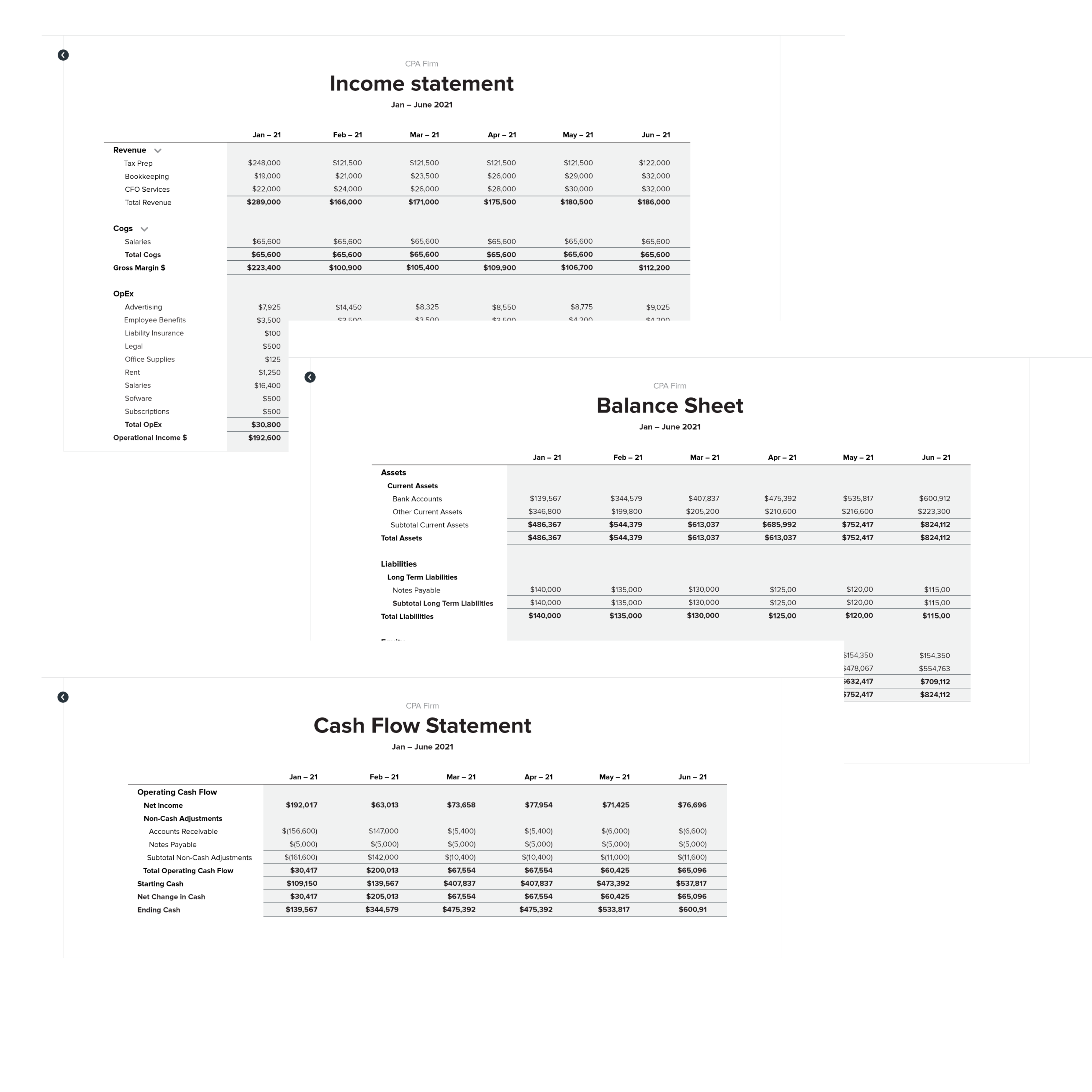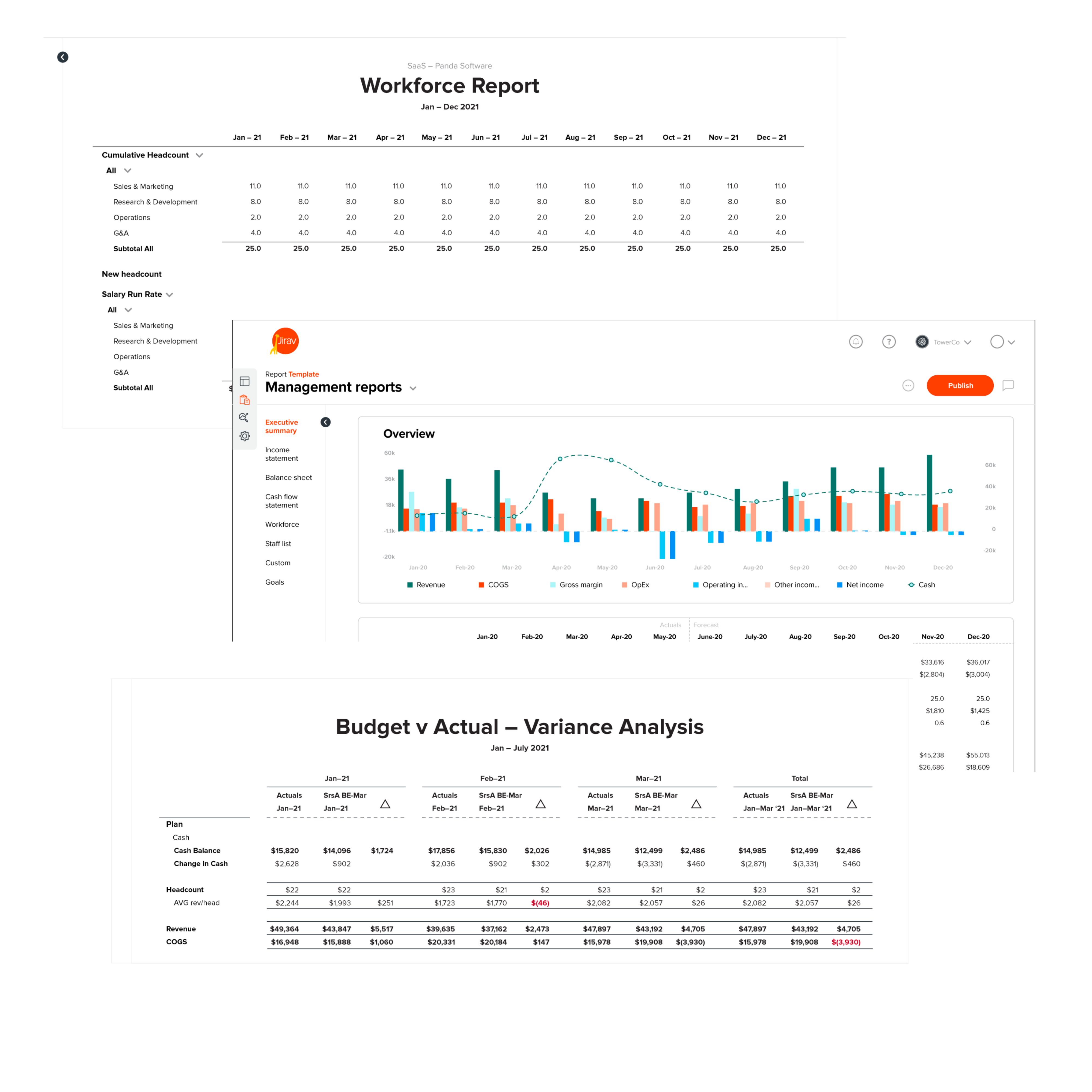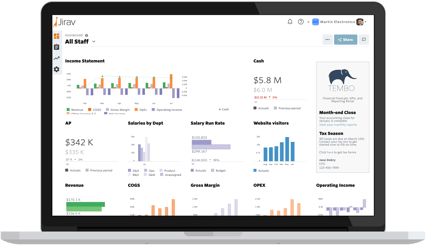 The ADP and Jirav relationship goes well beyond technical integration
At Jirav, we're driven by a passion for financial excellence and a relentless desire for the success of our customers. And as part of our mission to help accounting firms succeed, we're dedicated to helping you expand your firm's service offerings to include FP&A advisory. The integration with ADP will help in that process, showing our joint customers benefits in pricing, support, and enablement so accounting firms can offer additional FP&A advisory services, utilize greater automation, and offer planning, reports, and insights more efficiently to their clients while increasing their services margins.
While the initial integration will be between the Jirav and RUN solutions, an integration with ADP Workforce Now® is also planned in the near future.
Beyond technical integration and pricing benefits for using both solutions, both Jirav and ADP are most passionate about firm success. As two companies who have helped many accounting firms launch successful HR, payroll, and FP&A advisory services to their clients, there is as much focus on helping firms successfully launch these services as there is on the technical integration. This means making sure firms are set up for success with additional resources like best practices for the sales and marketing of advisory services, and offering proven recommendations.
If you're ready to talk to a consultant or would like to see a demo to learn more, book a meeting here.
Useful links