Controlling spend against the annual budget is never easy, but it's especially difficult when planned spend shifts from month-to-month.
When department heads reallocate spend, it can easily distort year-to-date plan vs. actuals reporting. If they didn't give you a heads up, it's hard to know if a variance is due to a change in timing versus a true risk to the plan. And explaining all these timing differences requires investigation and communication that takes up valuable time.
What if you had an easy way to automatically update your monthly forecast amounts based on what your department heads are planning throughout the year? Now you do, thanks to the powerful combo of Collaborative Planning and Jirav's latest update to Standard Drivers.
Keep on reading to learn about this new capability and more features the R&D team added to Jirav in May:
Improvements to Standard Drivers
Bulk driver editing, deletion, and cloning
Improved organization of the Drivers page
Let's dive in!
Improvements to Standard Drivers
Annual Target/Fixed Spread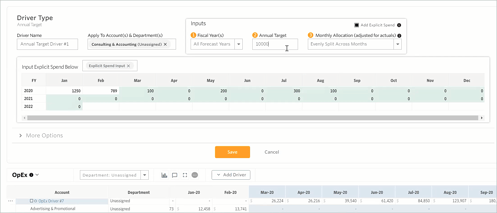 In our April Release we added the ability to define an Explicit Spend for certain months in your plan. Now we've made it easier to collaborate with your team on those numbers. Instead of hard coding those numbers in the driver, you can choose to reference a line in a Custom Table to pull in your Explicit Spend.
This makes working with your team using Collaborative Planning easier. Just share the relevant Custom Table with the individual responsible for the spend. They only need to understand how to edit a table of values. There's no need to learn how to edit a driver. If they've ever updated an Excel spreadsheet, they already know how to do it.
Here's how you can leverage this Jirav update to ensure more accurate year-to-date plan vs. actuals reporting:
Share a Custom Table with each department head. Add a line for each expense account with high month-to-month variability. Then ask your department heads to log in each month and update their assigned table with any changes to planned spend.
A good use case is marketing events. The annual budget for marketing events may be fixed, but the planned spend from month-to-month will change frequently as the marketing team seeks out new opportunities and learns from past events.
By sharing a Custom Table with your CMO, then linking the appropriate Custom Lines to your plan using an Annual Target / Fixed Spread Standard Driver, you can automate the reallocation of the budget within the plan year. Now your year-to-date plan vs. actuals report will give you a much better idea your marketing team is on or off track with their variable spend throughout the year.
% of Another Account
For the periodic growth option, you can now specify when the periodic increase or decrease will start. You can choose a specific month, or the first month of the first quarter post cutover.
For the base to grow, you can now choose a constant number.
Bulk driver editing, deletion, and cloning
The addition of Bulk Driver Creation in our March Release made it super easy to build dozens of similar drivers in one go — but what if you want to change those drivers after the fact? Now you can just as easily bulk edit, bulk delete, and bulk clone drivers.
Bulk edit
Select multiple drivers that use the same input and change the input all at once.
Bulk Delete
Select multiple drivers within the same module and delete them all with one click. It's as easy as deleting unread emails from your inbox!
Bulk Clone
Copy an existing driver to multiple accounts and departments in the same module. You can also make changes prior to cloning. If you do this, the original driver will not be changed.
Improved organization of the Drivers page
Standard Drivers and Custom Drivers are now grouped together by module, making it easier to find the driver you're looking for.
Helpful April 2021 release links
That's all for now! I hope you enjoy our latest features and fixes. Here are a few helpful links to accompany our May 2021 release: