The team has been hard at work improving Jirav, and I've got seven exciting product updates to share with you this month:
---
Collaborative Planning
Planning is at the core a collaborative activity.
We all know that consolidating data from a variety of systems is a battle. But as organizations grow, getting managers to come together and work out a comprehensive business plan is an equal, perhaps even greater challenge.
This is a problem in very large enterprises down to relatively small, 10-person businesses.
Small and medium businesses often use spreadsheets for budgeting and forecasting. Tools like Microsoft Excel are great for working alone, but start to have issues when trying to collaborate as a team.
How do you avoid exposing confidential salary information to managers or staff, for instance? Now you have to split your financial plan across multiple workbooks.
What if you only want to get budget input from your head of marketing, but without showing her the detailed budgets for every other department? Currently you have to create a separate version of the plan just for her, then worry about combining her input into your main Excel workbook.
At Jirav, we're working to cure the pain around collaborating on plans. Our goal is to combine the ease you experience sharing a Google Doc with the power of an enterprise solution that gives you tight control over what each collaborator can see and edit.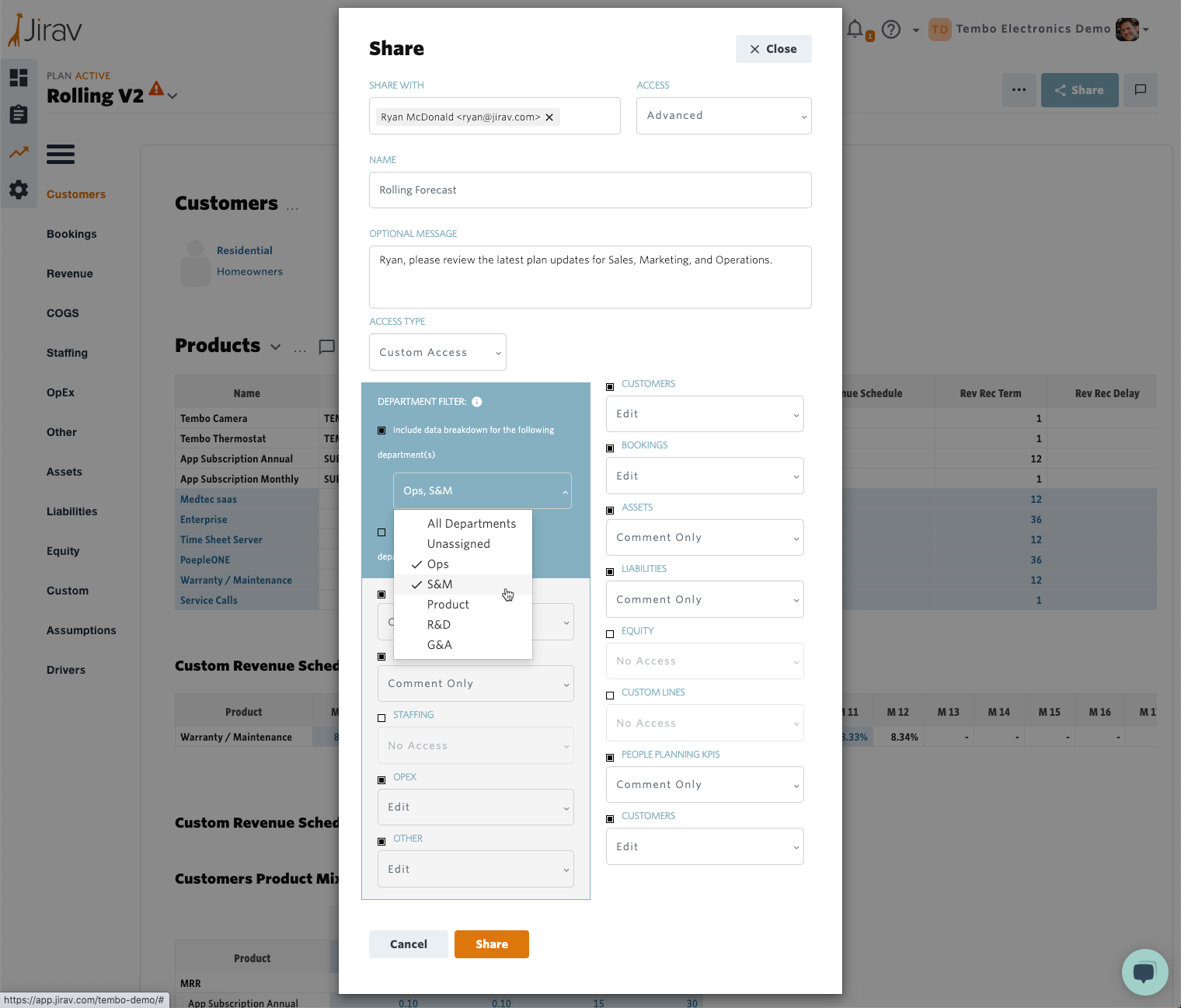 When Sharing plans, you can now specify custom access permissions by department and table. Give edit access, comment only, or hide tables entirely.
How it Works
Now, with our new Advanced Access permission in Plans, you can specify in detail exactly what tables should be shared. You can also choose what departmental information to include, and what level of access each user should have for each table in your plan.
It's easy to see who has access to your plans and revoke access at any time. You can even share multiple times to the same person, each time giving them a different view into the same plan.
Once you share the plan, the user receives an email and in-app notification that the shared plan is available to view, and can immediately comment and edit (as permitted) on the parts of the plan to which they have access.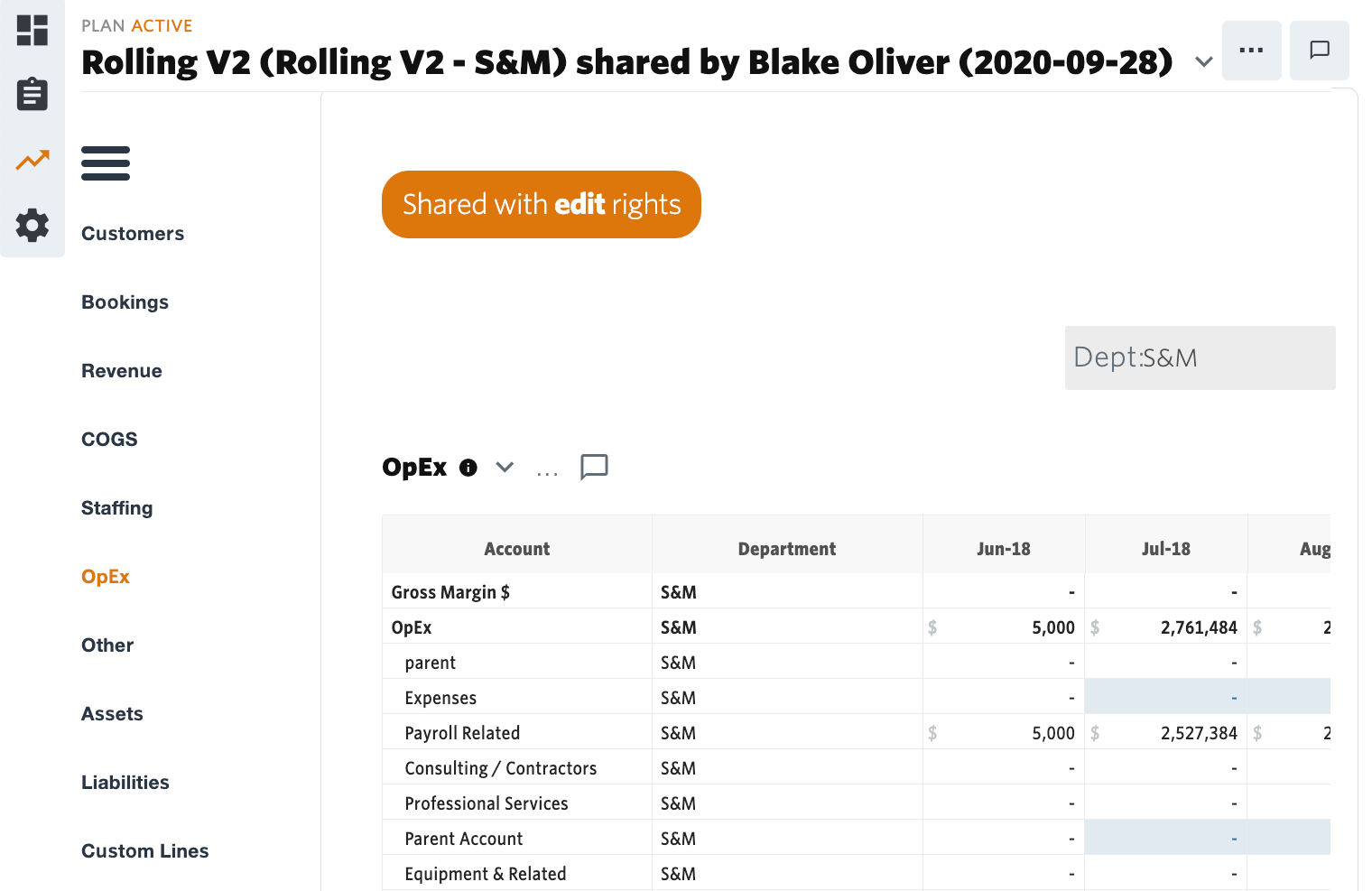 A shared plan view with edit rights. Access to each table can be restricted to comment only, or individual tables can be hidden entirely.
What's Next
This is just the start of Collaborative Planning with Jirav. We're hard at work at making it easier to work as a team with even more features and permissions settings.
---
Assumptions
Assumptions are a foundational component of any business plan. That's why the first tab in many Excel workbooks is a table of key assumptions.
It's important to make sure that key assumptions are always visible. This makes it more likely that collaborators will continually validate assumptions, which improves accuracy. Having them in one place also makes it easier to update your model when assumptions change.
Previously in Jirav, assumptions were often built into custom tables or coded within formulas. Now, we've given assumptions in their own tab, increasing visibility, ease of use, and implementation time.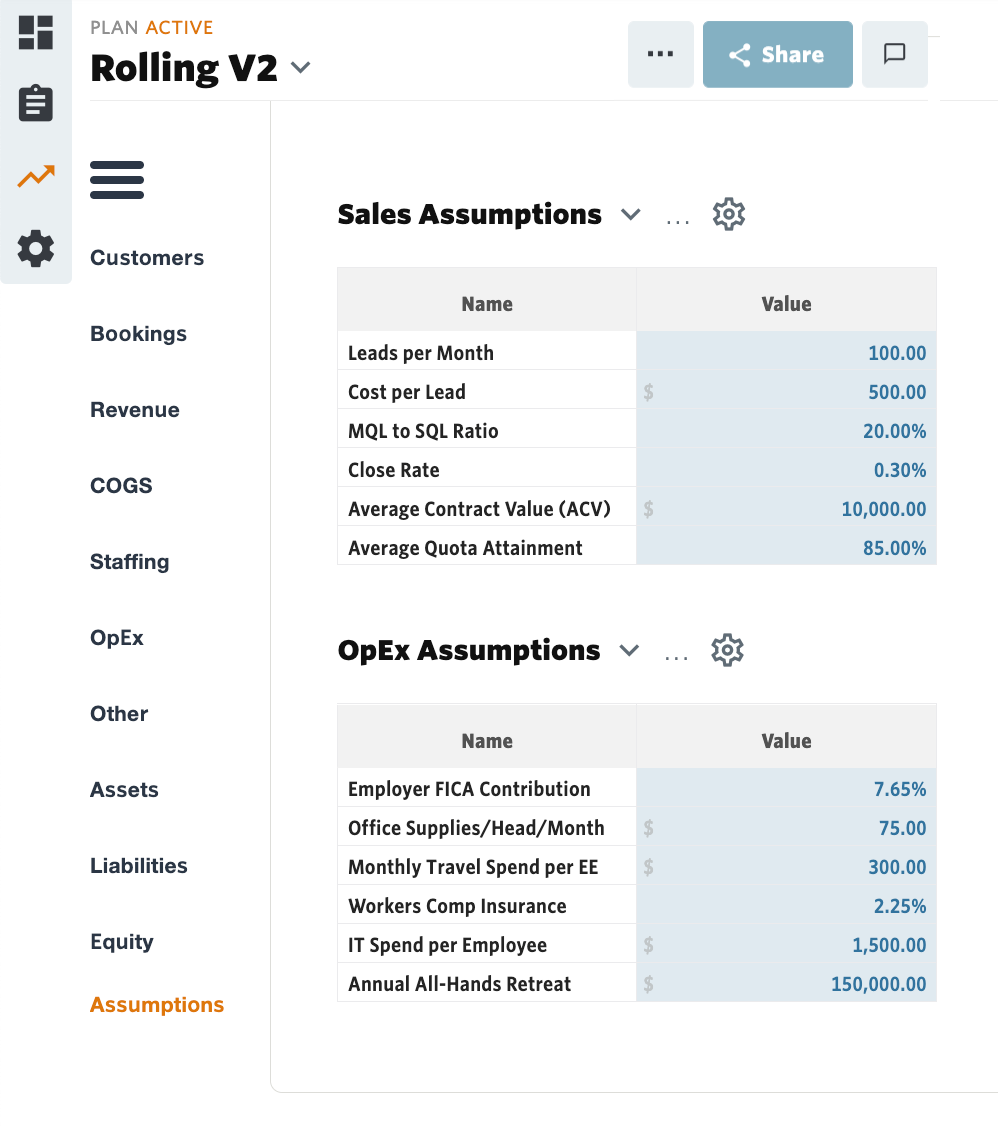 Sales and OpEx assumptions grouped into two tables in the new Assumptions tab.
How it works
You can think of Assumptions as a simplified Custom Table. All you have to do is give each assumption a name and value. You can then easily reference assumptions when building drivers.
Paired with our new Collaborative Planning feature, the Assumptions tables are an easy way to share all your assumptions — just the ones they need to see and edit — with the appropriate users. For example, you could create a Marketing Assumptions table with a list of key marketing metrics that your head of marketing could then update herself. No more emailing back and forth spreadsheets to get that data into your plan.
---
Income Statement by Department
We've heard it loud and clear! You want the ability to slice and dice your income statement reports by department.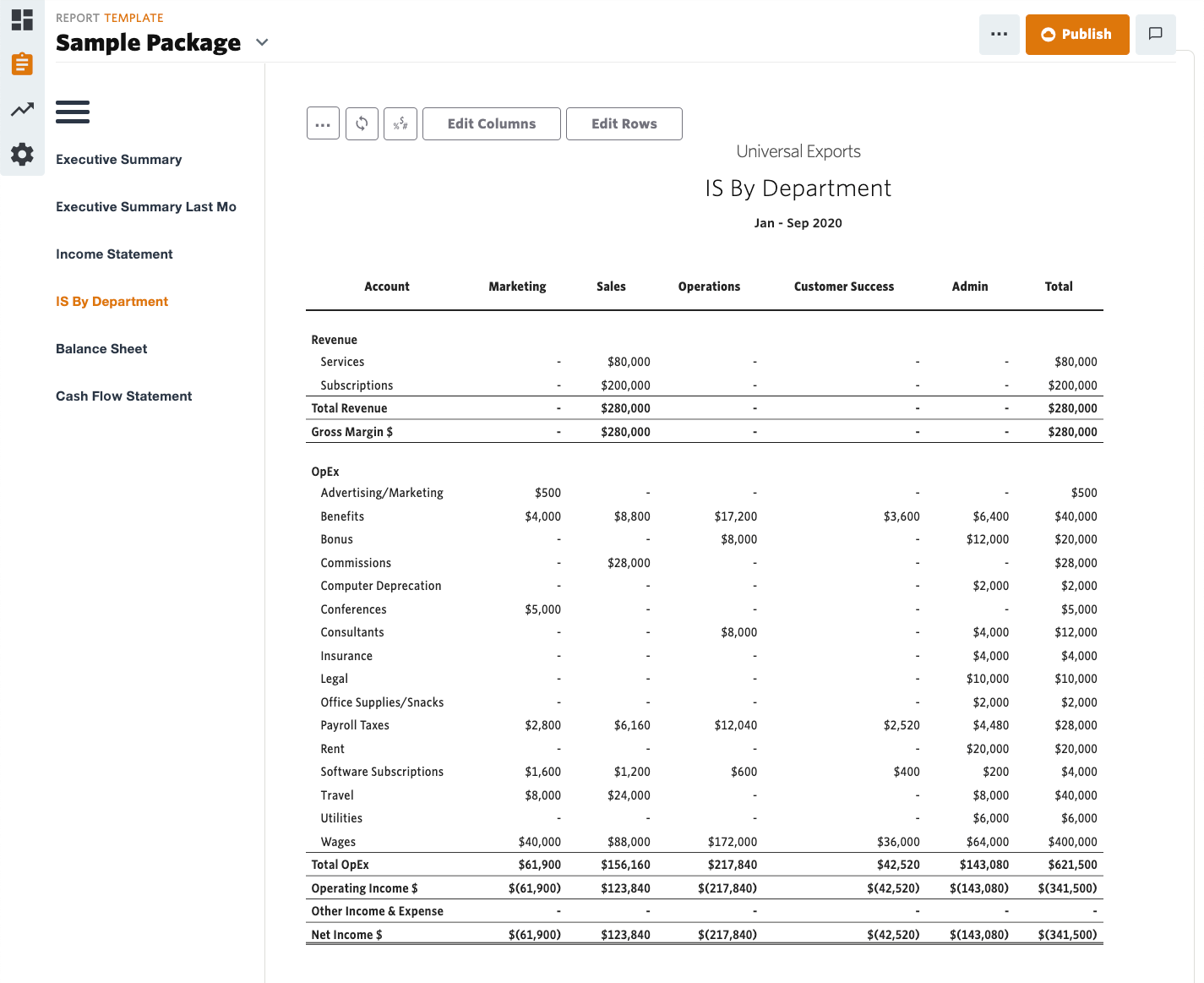 Example of an Income Statement segmented by department with a total.
How it works
When you add a new report to a reporting package, you'll now see a type called "Income Statement by Department."
On this report, you can:
Edit columns to manage what shows up
View a single, multiple, or all departments
Optionally add a subtotal for all the departments you selected
---
Manage Raises in Staffing
Forecasting compensation increases is an important part of workforce planning. Users have always had the ability to quickly forecast raises by departments or roles using drivers, but many times they wanted to also do this at an individual level without creating a driver and now you can!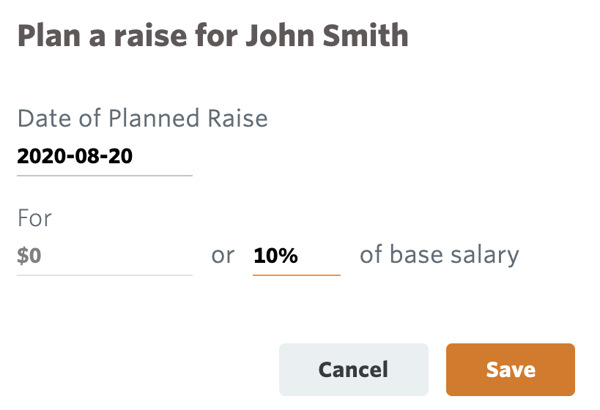 Plan future raises for employees by flat dollar amount or a percentage of base salary.
How it works
In the Staffing module, head over to the Manage Staff table, then hover over the row for the employee you want to edit. Select Manage Planned Raise(s). Enter the date of the planned raise and either a flat dollar or percentage of base salary.
You can add multiple raises for the same individual, allowing you to forecast annual raises multiple years into the future, or more frequent raises.
---
Table Level Comments
Jirav users have been collaborating inside the app since we released Comments earlier this year. But up to now, they've been limited to commenting at the plan, report, or dashboard level.
Now you can create comments and notifications at the table level. This makes communication easier by putting comments exactly alongside the relevant data. Now you can easily pinpoint what inputs, drivers, or outputs are under discussion.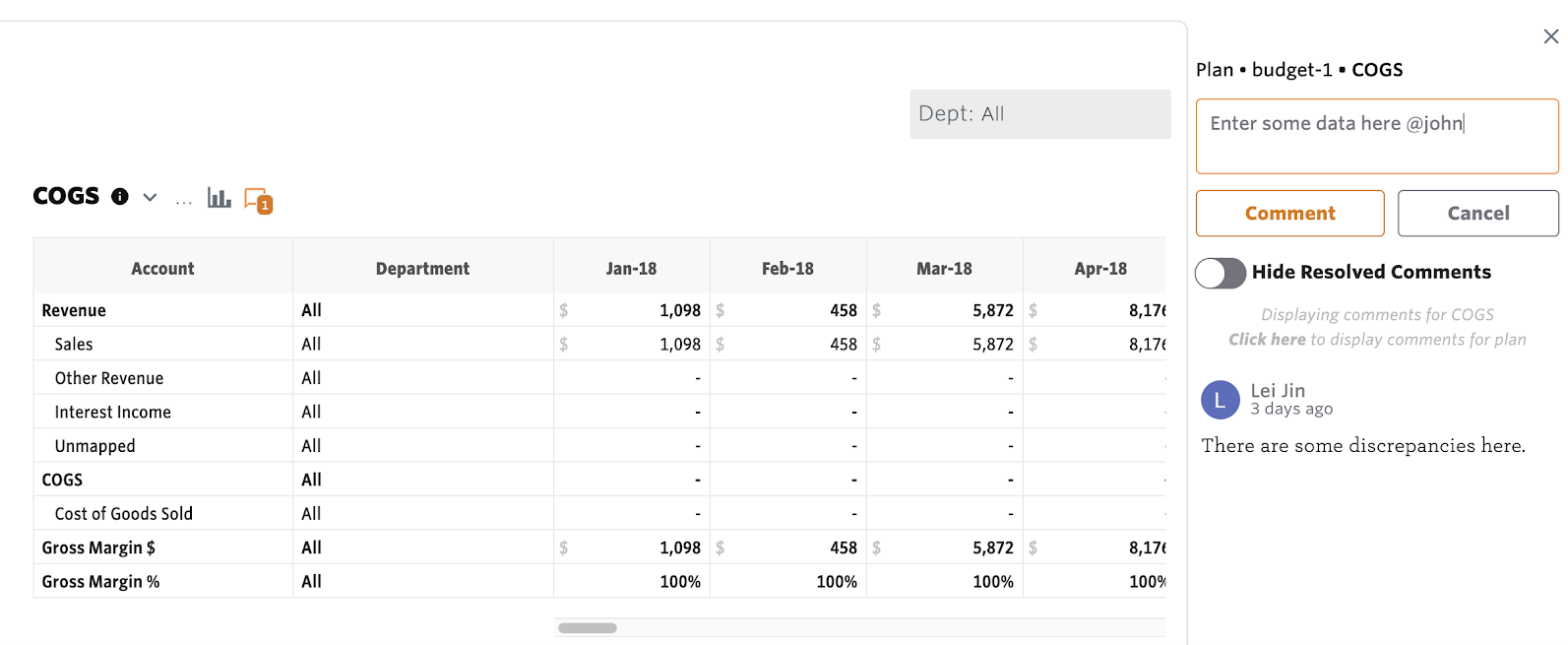 A thread of comments associated with the COGS table in a plan.
How it works
Go to any table in your plan and click on the comment icon.

If there are any unresolved comments, you'll see a number representing the quantity.

Within the comment sidebar, you can @ mention any user to send them an email notification with your comment and a link back to the associated table. You can reply to, resolve, edit (your own), and delete comments.
---
Integration with Sage Intacct
We're pleased to formally announce our integration with Sage Intacct, one of the leading cloud financial management solutions on the market.
How it works
Users on one of our Enterprise plans can now connect to Sage Intacct to import their monthly trial balance automatically on a daily basis, and on demand with a few clicks.
---
Integration with QuickBooks Desktop
We've integrated with QuickBooks Online since the beginning, and connecting to the desktop edition has been a top request of customers and prospects for a while. That's why we're excited to announce that Jirav now integrates with QuickBooks Desktop!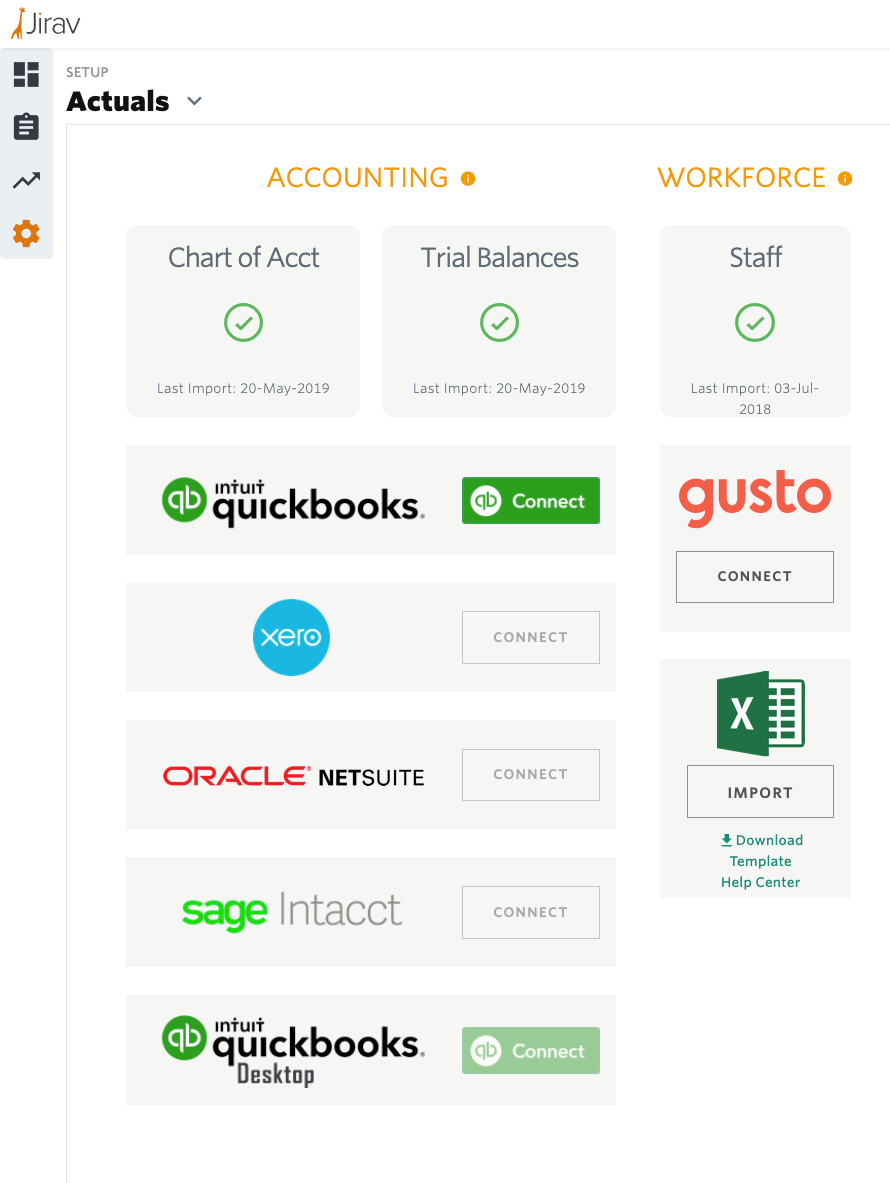 Now you can integrate Jirav with Sage Intacct and QuickBooks Desktop to quickly and automatically import accounting data so you can start planning faster.
How it works
Users on one of our Enterprise plans can now connect to QuickBooks Desktop to import their monthly trial balance automatically on a daily basis, and on demand with a few clicks.
---
I hope you enjoy these updates. I look forward to your comments and feedback.