This month, the R&D team continued to work on adding more ways for you to customize the presentation of reports and dashboards. We also worked on making Jirav easier to use with improvements to planning.
Here's everything that's new in August:
Select which report sections to download
Three more text sizes in reports
Create plan drivers at the "Department: All" level
Copy numbers of different formats into Jirav
Let's dive in!
Select which report selections to download
When downloading a report package as a PDF, you can choose which sections are included. This makes it easier to more quickly get the right information to the people who need it.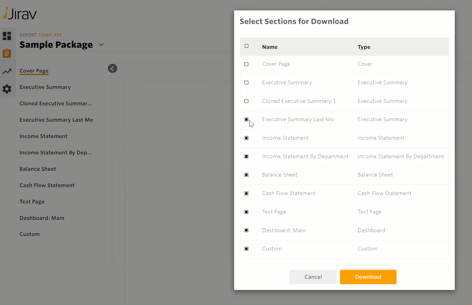 Three more text sizes in reports
Jirav allows you to include your analysis and other information as text pages in report packages. We've given you the option to customize the format of these text pages with three more heading sizes.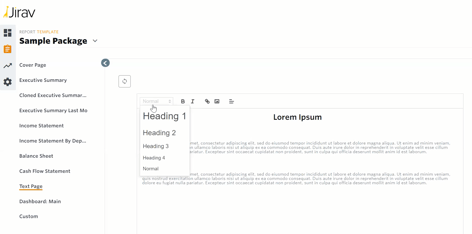 Create drivers at the "Department: All" level
We've made it easier to create drivers by allowing you to access the "Add Driver" dropdown menu from the top level of your plan. From there, you can decide if you want to apply the driver to all departments, a specific department, or a subset of departments in your organization.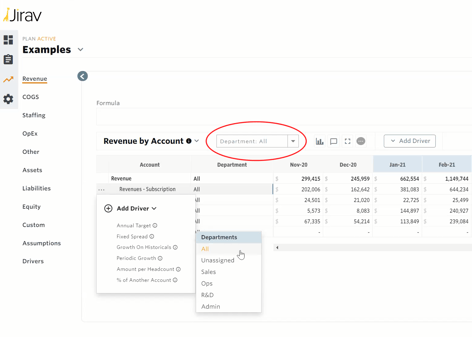 Allow copying numbers of different format into Jirav
It used to be that you had to remove the formatting on your numbers in spreadsheets before copying and pasting into Jirav. Now you can copy and paste without that extra step.
Helpful July 2021 release links
That's all for now! I hope you enjoy our latest features and fixes. Here are a few helpful links to accompany this release: