One of my favorite features of Jirav is the ability to join your payroll data with your accounting data, allowing you to forecast not just your financials, but also your staffing plan. Headcount can drive financial results, and vice versa. That's how things work in the real world, so we built our financial modeling software to do that, too.
In Jirav, we don't believe in simply increasing an abstract Salaries & Wages expense account by an arbitrary amount each month (although you can do that, if you want). Rather, we enable you to define specific roles with associated salaries and hire dates that determine the amount of wage expense.
You can plan out named hires, or you can choose to drive hiring for each role based on any metric you like, whether financial or operational. For instance, I could make my Warehouse Headcount a function of Customer Orders, which also drives Revenue. It's totally up to you.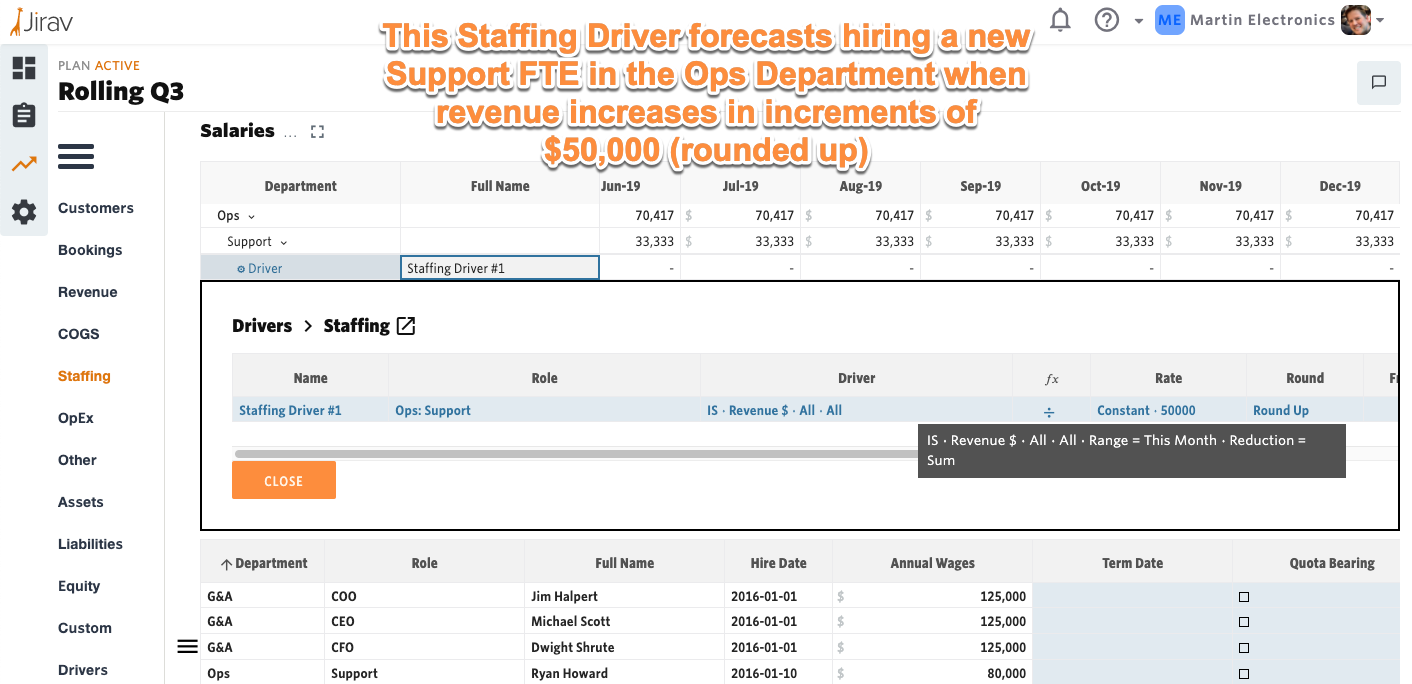 Once you've built up your staffing plan, you have a variety of options for how to forecast the associated payroll taxes, benefits costs, and any other expenses associated with hiring, such as provisioning a new laptop.
The simplest method is to use a fixed percentage for taxes and benefits, and a fixed amount for the equipment purchase. Or you could get a bit more fancy and break down the taxes and benefits into their various components. Another option is to based the forecast on historical results — perhaps a trailing 12-month average.
So which should you use? To help you decide, Evan Wells, our VP of BizOps and Financial Services, recorded a series of short walkthroughs as part of our new "15-Minute Coffee + Jirav Tips & Tricks" webinar series last week.
I've collected the recordings below. The first three videos each demonstrate one of the three methods for forecasting fully burdened headcount in Jirav. The fourth video shares a few tricks that are helpful if you're planning on using roles and sub-departments.
---
Fully Burdened Headcount: Simplified Method
Recorded April 6, 2020
---
Fully Burdened Headcount: Detailed Method
Recorded April 7, 2020
---
Using Historical Averages to Project Headcount Burden Rates
Recorded April 9, 2020
---
Tricks with Headcount Setup for Forecasting
Recorded April 10, 2020
---
Interested in learning more about Jirav? Request a demo and see what else you can do with Jirav's planning, reporting, and dashboarding tools.