Jirav and Paychex have officially launched an integration between our technology solutions! Our mission is to equip accounting professionals with proven, comprehensive capabilities to reach new heights for their clients, providing them with the insights they need to thrive and grow. And with our relationship with Paychex, we're making it easier than ever for accounting professionals and firms to gain access to the tools they need to do just that!
But don't just take our word for it—did you know that both Jirav and Paychex are two solutions out of a very select few that CPA.com recommends as the "preferred modern tech stack" for accounting firms? Jirav makes the list for financial planning and analysis (FP&A), while Paychex ticks the box for human capital management (HCM) solutions, including payroll, HR, and retirement solutions. CPA.com is the industry expert on connecting accounting firms to the resources and solutions they need to become more efficient, more profitable, and to provide better services to clients, so we feel fortunate to make their list of recommended solutions!
We didn't decide to work with Paychex just because CPA.com recommends using both of our solutions—it's bigger than that. We joined forces to bring accounting firms a ready-made offering that leverages technology and automation for forecasting, budgeting, and planning so that they can offer FP&A advisory services to their clients more efficiently and profitably than ever.
For our joint customers, this is a perfect match. "Integrating Paychex's workforce data into our FP&A solution enables our joint customers to replace manual processes, offer more powerful advisory insights, and fully utilize automation to provide client deliverables faster, leading to stronger business results and longer-lasting client relationships," said Mike Triantos, Head of Partnerships at Jirav.
How do you connect Paychex and Jirav?
If you already have Jirav and Paychex, you're just a few simple clicks away from connecting our solutions:
1. Log into your Jirav account
2. Navigate to settings
3. Click "connect actuals"
4. Find the "connect" import button next to the Paychex logo and follow the connection instructions
Once connected, you'll need to complete some simple drag-and-drop mapping of your Paychex data, and then you'll be mapped and ready to use your data in plans, reports, and insights. After your fields are mapped, tasks like comparing headcount actuals against your forecast, as well as many other reports become quick, easy, and accurate.
If you don't have both Jirav and Paychex, your first step is to get set up with both of these world-class solutions!
Examples of FP&A advisory and workforce
Here are examples of some fun things you can do for your clients "out-of-the-box" with the combined Jirav + Paychex solution.
Workforce KPIs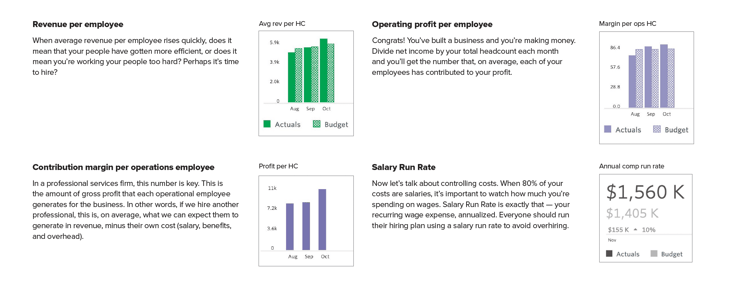 Workforce dashboards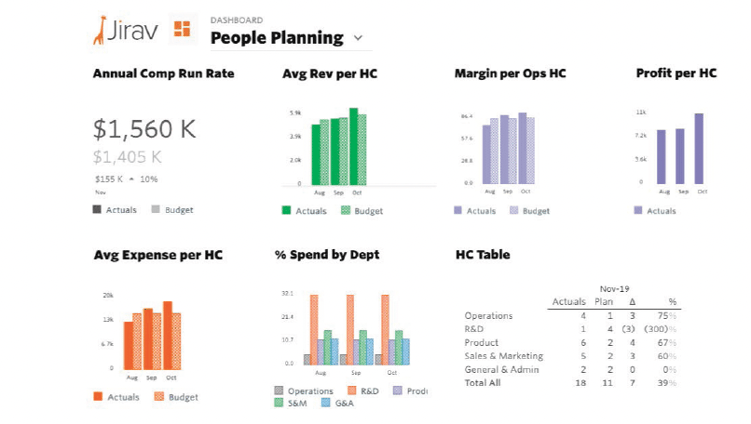 Workforce data is pivotal in most FP&A advisory reports including forecasts, budgets, annual operating plans, and everything in-between.
It's not just technical—it shows our joint passion for accounting firm success
At Jirav, we're driven by a passion for financial excellence and a relentless desire for the success of our customers. FP&A can be tricky to understand and master, but we believe that expanding your firm's service offerings to include FP&A services and strategic advisory is critical to future success and staying relevant in the industry. Offering strategic advisory elevates your client relationships from bookkeeping and simple reports into becoming a long-term strategic partner.
And when you work with us, you get a partner in FP&A, not just another vendor. But more than that, you get access to all of our partners and the organizations we work closely with, like Paychex and CPA.com. From this specific partnership, you get best-in-class HCM solutions from Paychex; purpose-built FP&A capabilities from Jirav; and insights and advanced consultation around expanded advisory services from CPA.com.
We're partnering to provide more than just technology. Instead, you gain access to experts with years of experience in successful HCM and FP&A advisory launches within firms, plus training and enablement help, and consulting from CPA.com (who just happens to be the technology and consulting arm of the world's largest CPA member organization, the AICPA). Together, we're all motivated to help accounting firms find success for not only their firms, but their clients as well.
If you're ready to talk to a consultant or would like to see a demo to learn more, book a meeting here.
Useful links
Integration page: Discover how to unlock new insights and greater automation in your advisory services with Paychex workforce data
Book a demo: Talk with a consultant to see how Jirav and Paychex fit in your firm