We are thrilled to announce the Jirav Finance Hero awards! These awards are an opportunity to recognize and celebrate customers and partners who are using Jirav to take their businesses to the next level while driving forward with speed and confidence.
We know the past few years have been challenging for businesses in particular as they navigate supply chain issues, inflation, a global pandemic, and a potential recession. Throughout everything, finance leaders and accounting professionals have found themselves at the forefront as their organizations look to them for guidance as they plan for an unpredictable future. We created the Finance Hero award program to recognize these leaders who are finding success and steering their businesses forward in spite of these unprecedented challenges.
Organizations are using Jirav to transform the way they plan, budget, forecast, and more, and the individuals we nominate for the Finance Hero award are going above and beyond to succeed with the product. Their use cases inspire us, and we want to share their success stories so that others may discover new ways to use Jirav in their own organizations.
Jirav Finance Heroes are motivated to win
We are so excited to announce that the inaugural Finance Hero recipient is Dawn Brolin! Dawn is a rockstar in the accounting industry—not only is she the founder and CEO of her firm, Powerful Accounting, Inc., but she is also well known for her role as a thought leader and speaker, the Designated Motivator. Dawn believes that motivation and strategic planning is not a one-time event, but instead a critical part of being able to achieve the success you want for yourself and your team. She's authored two books on the subject: The Designated Motivator, and The Designated Motivator for Accounting Professionals.
Dawn brings her charismatic energy to everything she pursues and, luckily for us, that includes her love for Jirav. Not only does she include Jirav in her Team Brolin Starting Lineup, but Dawn is also rolling out Jirav to her own clients at Powerful Accounting, Inc. With a true passion for helping her clients succeed, Dawn understands that the future of the accounting industry must go beyond simple bookkeeping and tax preparation as clients expect more strategic advisory from their accounting team.
We feel very fortunate to have Team Brolin on our team—you could say it feels like hitting a home run.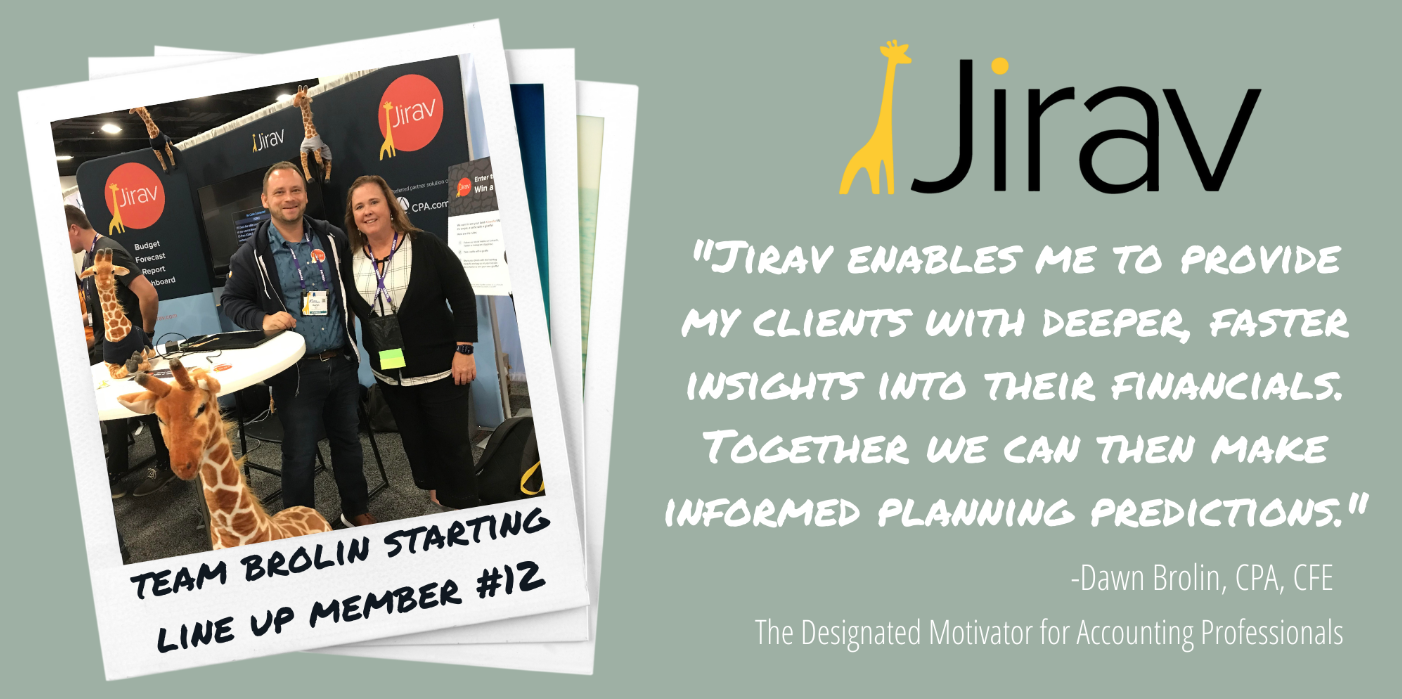 What Dawn loves most about Jirav
What I really love about Jirav is that it enables me to provide my clients with deeper, faster insights into their financials. It really helps you understand where your clients' business has been and helps them make some informed predictions they can plan around.
Dawn's favorite Jirav features
Jirav joins your cloud-based accounting, HR, CRM, and billing data into a really sophisticated, interconnected model that is unique to your clients' business. Plus, it eliminates spreadsheet errors and gives you monthly reports in real-time.
Everything is connected which means the data that drives Jirav can also drive revenue into your firm by giving you the ability to truly become a trusted business advisor to your clients. You can collaborate on multiple scenarios from bookings, billing, revenue recognition, cash flow, and workforce/expense planning all in Jirav.
Nominate your Finance Hero
Know a Finance Hero who is using Jirav in innovative ways to drive organizational success? We'd love to hear from you! Our goal in this award program is to understand all the ways finance and accounting leaders are using Jirav, and to recognize and celebrate them so that others may learn from their successes. Reach out to financehero@jirav.com to share your hero's story and to nominate them for the award.