Nearly everyone in the accounting world knows the name "QuickBooks." Small and medium-sized businesses alike use it for financial reporting and to handle payroll. QuickBooks is perhaps the most used accounting platform on the planet.
QuickBooks is great for bookkeeping, but QuickBooks custom reports sometimes lack the depth and flexibility needed by CFOs, controllers and the rest of the finance team.
Accounting software is great for seeing "what happened" in the past. It's vital for taxes and keeping track of revenue and expenses. But as a financial professional, you have other responsibilities:
Budgeting, modeling and forecasting for the future
Clearly explaining the company's financial position to your colleagues
Advising executives and making decisions based on your findings
QuickBooks has the accounting and tracking capabilities. When paired with the cloud-based financial planning and reporting of Jirav, you can reduce the need for spreadsheets and automatically generate custom reports — leaving more time for the strategic parts of your job.
The reporting gap you face every day
QuickBooks works very well for income and expenses. Reports for the data look great, too. That said, running a successful business means paying attention to numbers you just can't get from QuickBooks.
CFOs and controllers spend countless hours in Excel making up for this reporting gap in accounting software. You work hard to see the real snapshot of company performance using every relevant bit of data. Then, compile everything into a customized management report for the leadership team. Finally, you have to organize a meeting and do your best to explain the report you've worked hard to create.
There are three distinct ways using Jirav in conjunction with QuickBooks helps.
Replace manually-generated custom reports with automated reporting packages
Forecast and model using QuickBooks and all other data you choose
Set custom performance indicators and keep track of budget vs. actual in real-time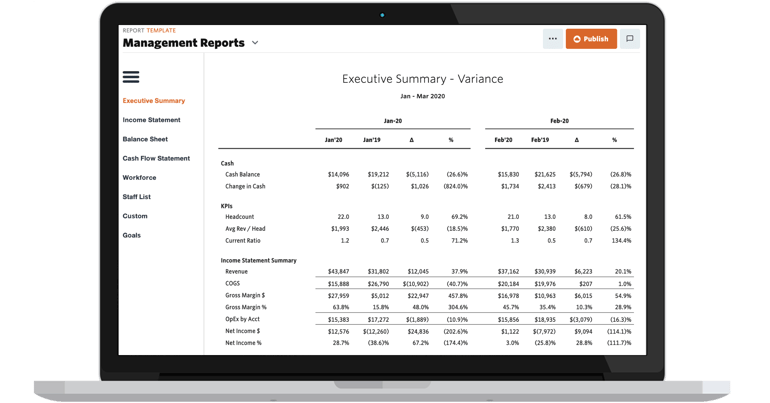 Automate reports and reduce manual work
QuickBooks reporting allows you to see income, expenses and basic P&L numbers. Connecting accounts and some third-party apps is also possible. And drilling down to see individual line items makes things a bit easier, as well.
However, as a finance leader, you need more than dollars and cents numbers to fulfill your role effectively. Here are some of the numbers and metrics you need at your fingertips:
Payroll in total and revenue per employee
Sales metrics such as customer acquisition cost (CAC)
Physical inventory numbers, square footage of storage, or office space
All of these numbers help you and the rest of the executive team see the big picture — but not everyone can grasp the intelligence buried in a 10-column spreadsheet.
Jirav pulls data from QuickBooks, third-party apps and your custom spreadsheets and compiles it into a visually-appealing and easy-to-understand reporting package.
You can generate custom reports instantly and send them to everyone right then and there. Everyone will have the same numbers in their inbox and understand where the company stands — all before the meeting!
Forecast more than revenue and expenses
Combining QuickBooks with the power of Jirav shows exactly what happened in the company over the past month, quarter or year in a fraction of the time. And the functionality of Jirav doesn't end there. Besides financial reporting, CFOs and controllers are responsible for the strategic functions of budgeting, forecasting and modeling.
Growth projections rely on numbers that aren't necessarily measured in dollars.. Here are a few of those non-financial numbers of interest to finance professionals:
Hiring and training costs to account for growth projections
The close rate and number of leads your sales reps go through each month
Projections using outside factors, like this one concerning Covid-19
Every bit of data creates more powerful and accurate financial models. These forecasts can then be used to make better decisions for the company as a whole.
Keep track of the metrics that matter
Forecasts are hardly ever 100% spot on. That said, they do provide a reasonable look at where the company is headed. For instance, if your company is growing at an average of 10%, it's just as likely to hit 8%, or 12% for that matter. But forecasts create a goal to hit.
Hitting those goals means tracking and achieving the right metrics.
When compiling and communicating financial data is automated, you'll have the time to pay attention to key performance indicators (KPIs) in the company. And you'll have more time to take action if you're not hitting those KPIs.
For sales, KPIs include leads, close rate, and conversion rates. Over in HR, you need to track training cost, salary run rate, and employee turnover rate. Some industries or companies track their own unique KPIs. For example, an airline might track on-time arrivals or lost luggage rates.
KPIs allow you to see glaring errors that you might miss while trying to "get everything together" for the quarter. Jirav allows you to create and track any custom KPI you can quantify.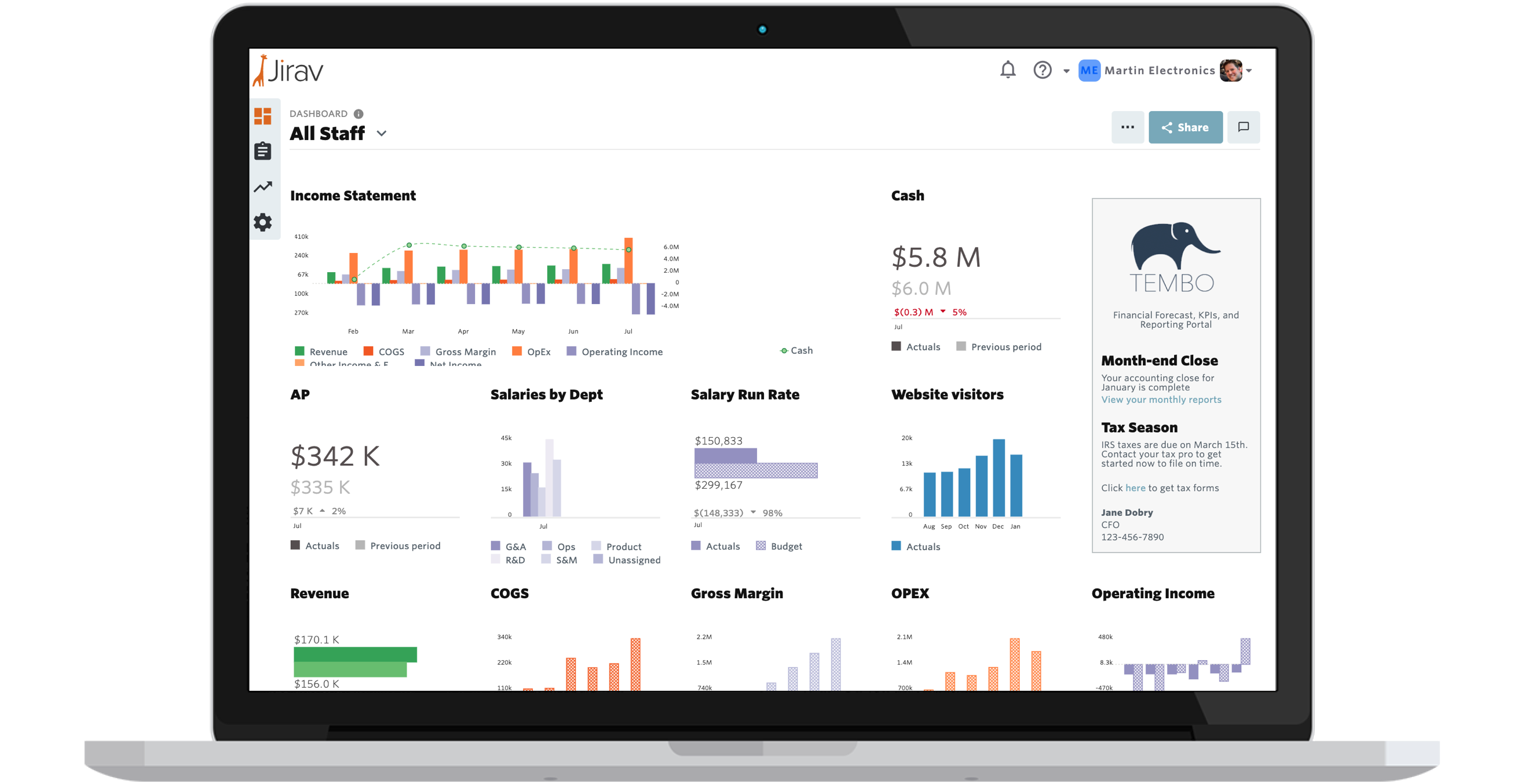 Free up time and improve your performance
Instant, comprehensive and visually appealing reports create time. You save time with Jirav's dashboards that reduce the number of custom spreadsheets and eliminate tedious copy and pasting. You'll spend less time explaining your reports. That means more time to think about important moves for the organization. More time to be a strategic advisor and offer up suggestions, such as:
At our current growth rate, we need to hire 3 reps in the next 45 days to have them trained in time.
The impact of the recession wasn't as bad as we feared, so it looks like it's time to bring back our furloughed staff members.
Moving to a 50% remote model would mean significant cost savings when we can move into a smaller space.
[Further Reading: How Jirav Helped This Biotech Firm Land Funding for Life-Saving Tech]
Jirav allows for seamless and automated financial analysis and forecasting so you work more on the things that make a difference. Start a free trial and see how you can create better QuickBooks custom reports with Jirav.