Exaggeration is easy.
Turn on the television, open a newspaper, or pull up your browser of choice, and you'll be immediately bombarded with promises of objects or services specifically designed to make life simpler than you ever could have imagined.
Some of those promises are real; most of them aren't. So when you read what accounting veteran Jim Gellas said about the impact a particular cloud financial planning and analysis solution had on the biotechnology startup he was working with, you wouldn't be alone if you were a little bit skeptical.

"I can't overstate how transformative Jirav has been for Cytovale," said Jim Gellas, VP of Finance at Kruze Consulting and biotech leader Cytovale's outsourced finance leader. "It unlocked the ability to budget and forecast in a way that could enable the pursuit of millions of dollars in funding and potentially save millions of lives as a result. You can't get much more compelling than that."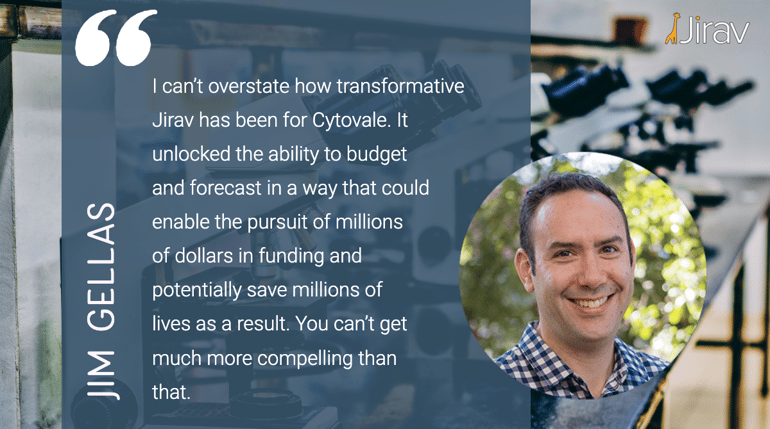 But Jim wasn't exaggerating. In late October, Cytovale raised $15 million to further develop its technology enabling the early detection of sepsis, a life-threatening condition that results in the body incorrectly responding to infections, often resulting in death.
So, uh, yeah — more money to develop a technology specifically designed to save lives is a really good thing. The fact that Jirav was there to help facilitate such a deal is both flattering and inspiring.
To learn more about how Jirav opened the door to new funding opportunities, saved at least 10 hours a month, and offered a new level of visibility to leadership and board members, check out the case study.