Last week, software peer review platform G2 released its Spring 2022 reports, and we were once again blown away by the support from our customers. Jirav exists to help businesses like yours succeed—and when you win, we win!
We work with our customers every day, but seeing the results of your trust in us and our solution in the marketplace helps fuel our passion and drive for excellence. Jirav is purpose-built for finance and accounting leaders, and your reviews show that it's achieving what we've designed it to do: it's helping your teams become more efficient, strategic, and confident as you drive towards success. Based on your reviews, we were named one of the best budgeting, forecasting, and financial analysis software companies in the industry. Let's dive into the results!


How Jirav ranked in the reports
In a year of considerable growth, Jirav continues to push forward with recognitions in 20 G2 reports and 15 badges in the spring release.
We retained our Leader status from the Winter reports in both the Financial Analysis and Budgeting and Forecasting software categories. To be named a Leader, products must be "rated highly by G2 users and have substantial Market Presence scores."
In both categories, our high satisfaction ratings helped to earn our Leader status. Let's look at the breakdown:
Customers rated our quality of support at 99%
Ease of admin clocked in at 95%
Our customers rated the ease of doing business with Jirav at 99%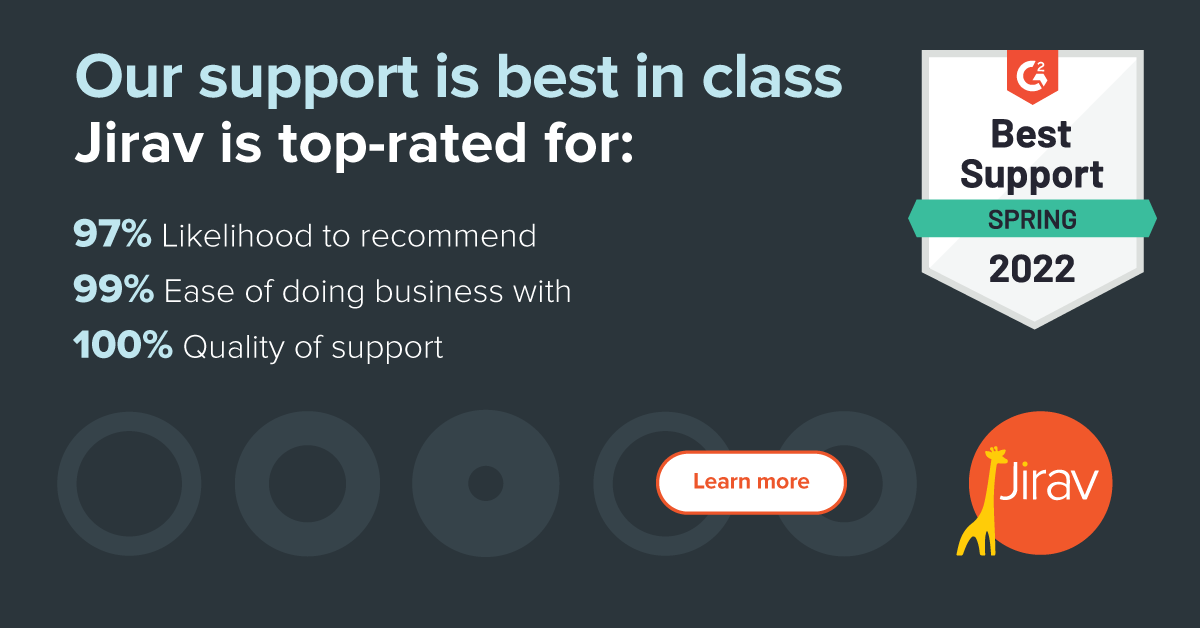 We're consistently recognized for our support, showing our commitment to customers and ensuring that they're enabled to succeed with the Jirav solution. The finance space—and, in particular, FP&A—can be challenging. By just investing in our solution, our customers are showing their commitment to their business, and we want to set them up for success. We're with our customers every step of the way, helping them understand the insights living within their finances, and the value in modeling, forecasting, and planning to clearly see where their business is headed.
"The customer support is fantastic, understands my needs quickly, provides efficient solutions, and responds to a minor bug immediately."

- G2 reviewer, Administrator in Information Technology and Services
Empowering small businesses to scale and grow
Jirav was also top-rated and recognized specifically for our success with small businesses. We know that growth companies are an extremely important part of our economy, and we give them the tools they need to succeed and scale. In the G2 Spring reports, we earned the Leader, Best Support, Best Relationship, and High Performer badges to recognize our commitment to helping small businesses succeed and grow.
Growth companies often operate on smaller budgets and fewer resources. With Jirav, they can build models and scenario test to decide which parts of their business they should invest in to achieve growth, and can measure against plan to make sure they stay on track. And, with our solution eliminating manual processes and tedious admin work, small businesses have more time to be strategic as they plan for future growth. In the G2 Small-Business Grid® Report for Budgeting and Forecasting, our solution's highest-rated features were:
Forecasts comparison, 97%
Variance analysis, 96%
Forward-looking, 96%
We are also the number one position in the Small-Business Relationship Index for Corporate Performance Management (CPM), with our customers rating us:
100% for quality of support
99% for ease of doing business with Jirav
96% likelihood to recommend
Conclusion
With a purpose-built FP&A solution, finance and accounting leaders not only have easier access to the insights within their financials, but the tools and support necessary to apply those insights to their business plans. Our customers are better equipped to plan for future success than those who aren't invested in FP&A, with access to real-time reporting and collaboration, and the best view possible of their business to understand where it's been, where it's going, and how to achieve their goals.
We're grateful to our customers for once again placing us at the top of the G2 reports in the financial software industry, and encourage all to read or leave a review. For those who are not yet part of the Jirav tower, schedule time with an expert today to see the solution in action and discover how you can start planning smarter and faster.
We're looking forward (literally!) to another successful year!