About Ingrid
My name is Ingrid Holmbukt, and I am a Norwegian business student spending my summer in San Francisco as one of two interns at Jirav. One of my projects has been to build a demo financial model for an Internet of Things (IoT) company. This demo is used for sales and training at Jirav and showcases some of the best features. In this blog post I will explain how I built a financial model for my company, Timon Technology.
About Timon Technology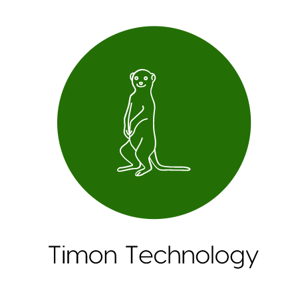 Timon Technology is a San Francisco-based IoT company - they primarily sell an internet connected hardware product along with a subscription tied to that product. Timon sells a smart watering system for campus outdoor areas and parks. The hardware product is a sprinkler that can be controlled remotely. Timon charges their customers for setting up and maintaining the sprinklers, as well as a monthly app subscription for reporting on and managing the system. In 2020 Timon is planning to release a weather sensor which automatically adjusts the watering system according to the weather. Customers who buy the weather sensor pay up-front for the hardware, as well as upgrading their app subscription from Timon Lite to Timon Pro.
Key events
Jan 2018 - Pre-seed funding of $1.4 million, Pre-revenue
Jan 2019 - Seed Funding of $4 million, Some Revenue
Jan 2020 - Series A of $8 million, Product Development
Jan 2021 - Product Release: Weather Sensor
Jan 2022 - Series B of $12 million, Accelerate Growth
Dashboard
The dashboard gives a simple overview of how the business is performing. Timon has three different dashboards; company, board and sales tailored for the different groups of viewers. The dashboard can be completely customized, for example showing revenue, cash, numbers of customers etc. Specific KPIs that are tracked in the company can also be shown here, letting you compare for example actuals vs. budget or this period vs. last period.
Company Dashboard
The company dashboard is available to all employees in Timon, and excludes sensitive information like salaries and cash. We can see that total revenue and gross margin are growing compared to previous periods. The actual numbers for subscriptions and sprinklers are better than the budget, while sensors are selling less than the budget stated. The headcount tile shows that Timon is hiring more people, with both the R&D and Ops teams growing. Revenue per employee is also showing a healthy trend. We also have a simplified income statement tile that shows high level numbers.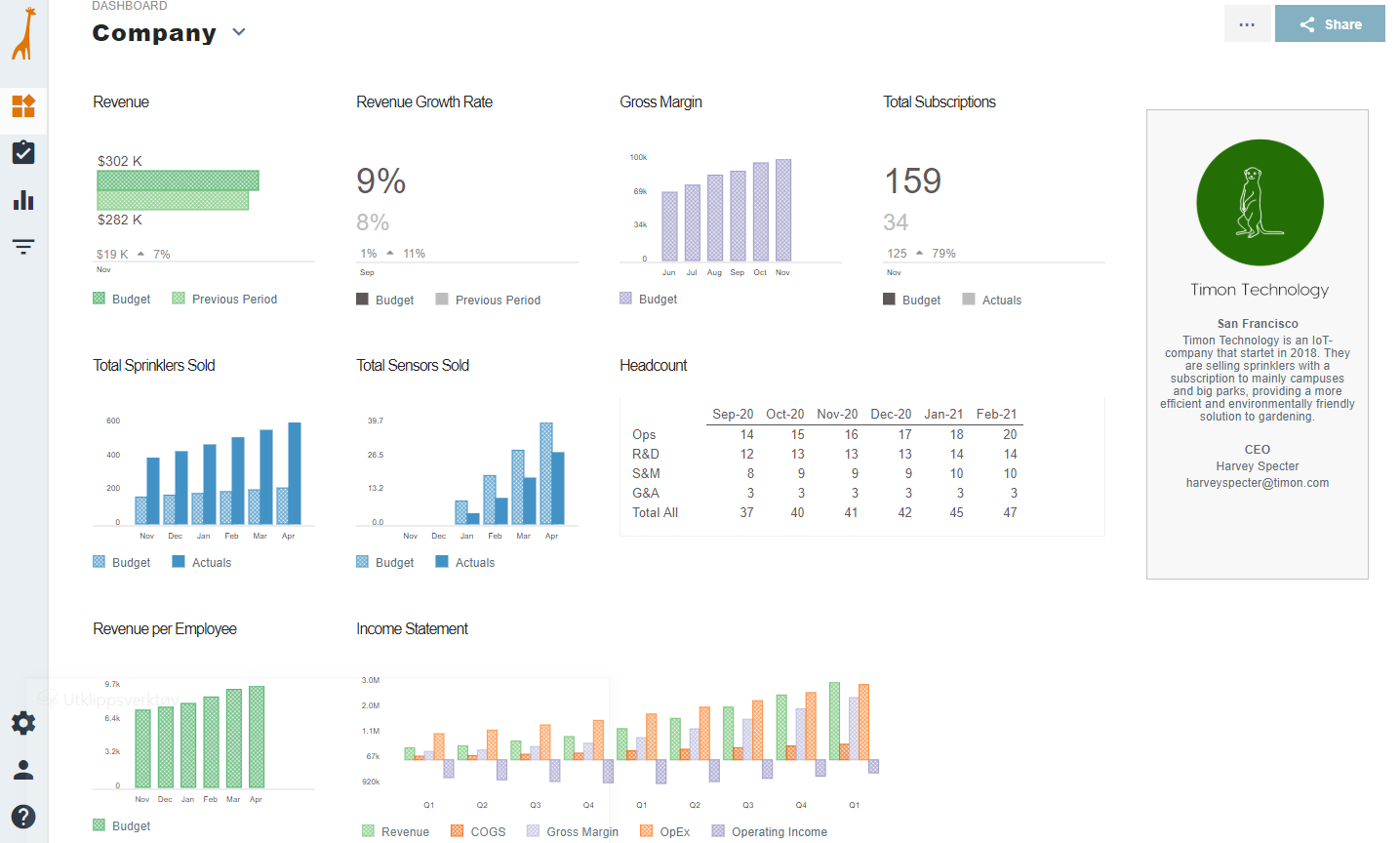 Board Dashboard
The board dashboard includes some of the more sensitive information in the company, such as cash and salary run rate. The tiles show that their runway is decreasing along with their cash amount. Another difference from the company dashboard is that the income statement tile here also shows the corresponding trend line for cash.
Monthly Report
One of the most powerful features of Jirav is the reporting that can be tailored to any company. This snapshot gives us key information in how the company is doing and where it plans to go in the future. Timon has three different report packages; monthly package, sales package and board meeting package. They are adjusted for their purpose and showing a variety of information.
Executive Summary
This is a special and highly customized summary report that shows a 3-year period performance by quarter. In this case period Timon has just released a new sensor after a long R&D cycle and is beginning to see revenue growth. They have a high level of operational costs, and most are tied to R&D workforce and related expenses.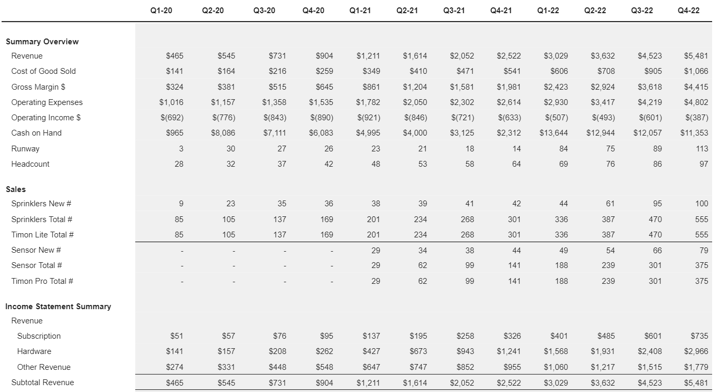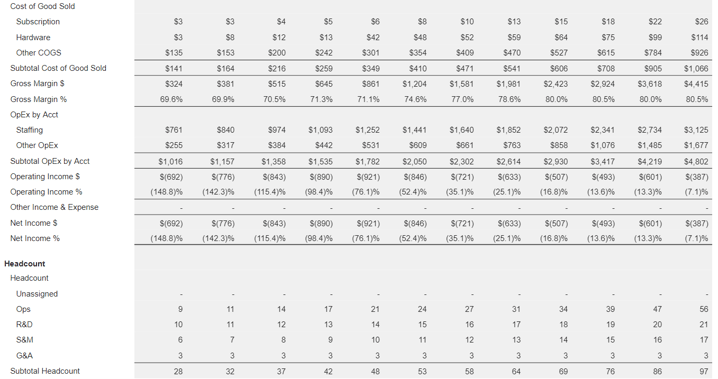 Sales & KPI
The sales & KPI report template shows the inventory of sprinklers and sensors, as well as all the sales numbers. Timon is buying three months of inventory ahead of time. The monthly package shows starting and ending balance for the inventory, and how much inventory is bought and sold every month. Inventory management is created using custom lines and global drivers, and it ends up looking like this: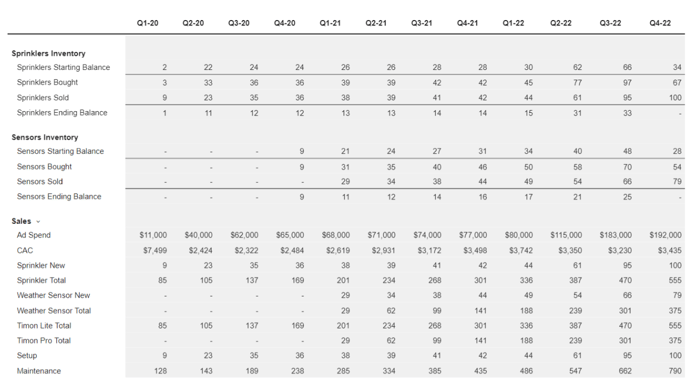 Income Statement
We can also see the Income statement trended yearly for 5 years, as well as the total.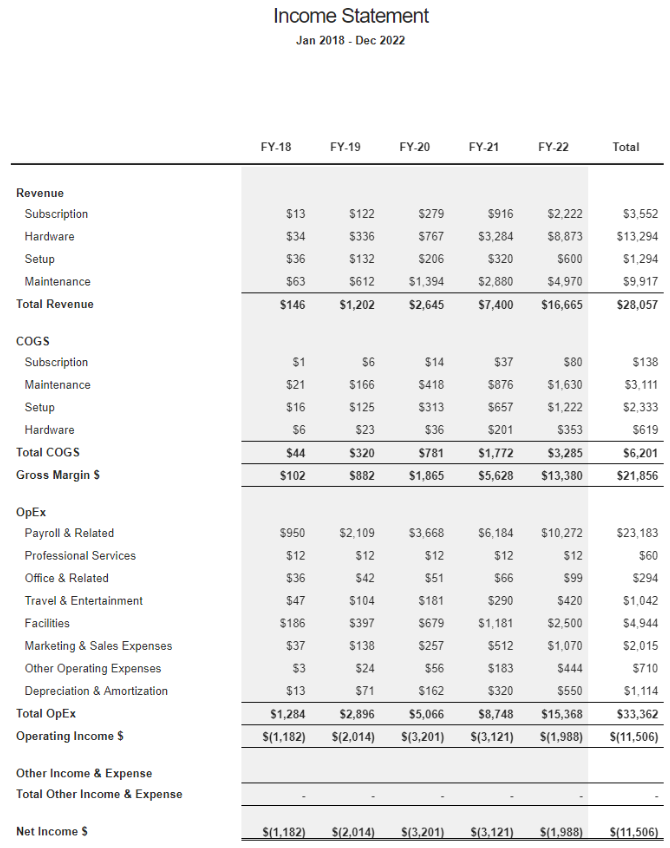 Balance Sheet
The balance sheet clearly shows the funding rounds Timon has had. Numbers are showing in thousands.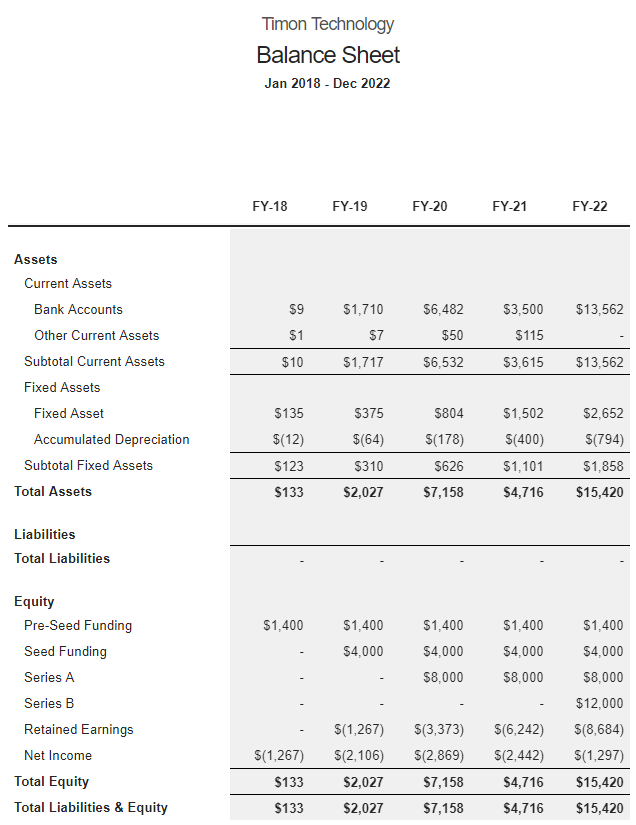 Cash Flow Statement
We can show the cash flow statement by year for 5 years, and it highlights the operating cash flow, investing cash flow and also all the financing rounds. Numbers are showing in thousands.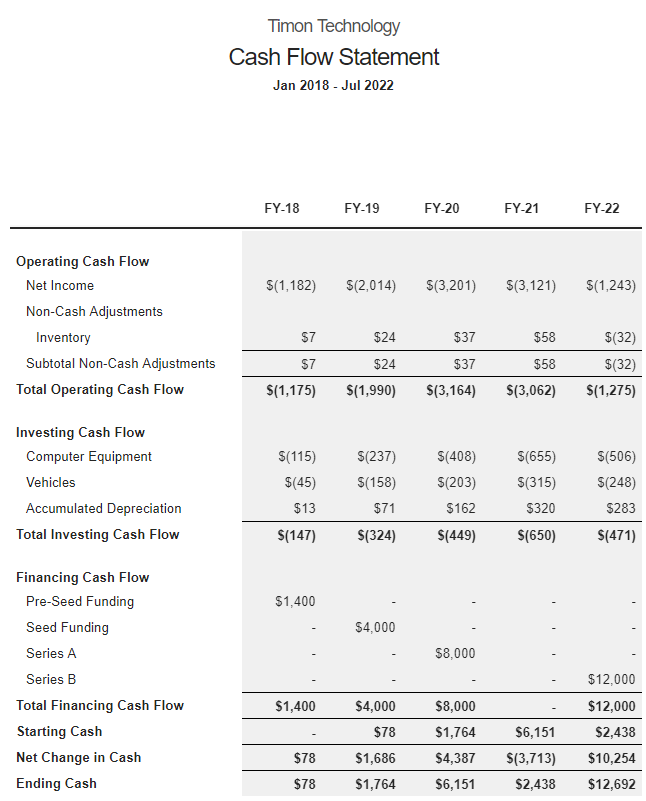 Workforce
The workforce summary shows total cumulative headcount by department per year. It also shows how many new hires Timon has and salary run rate by department.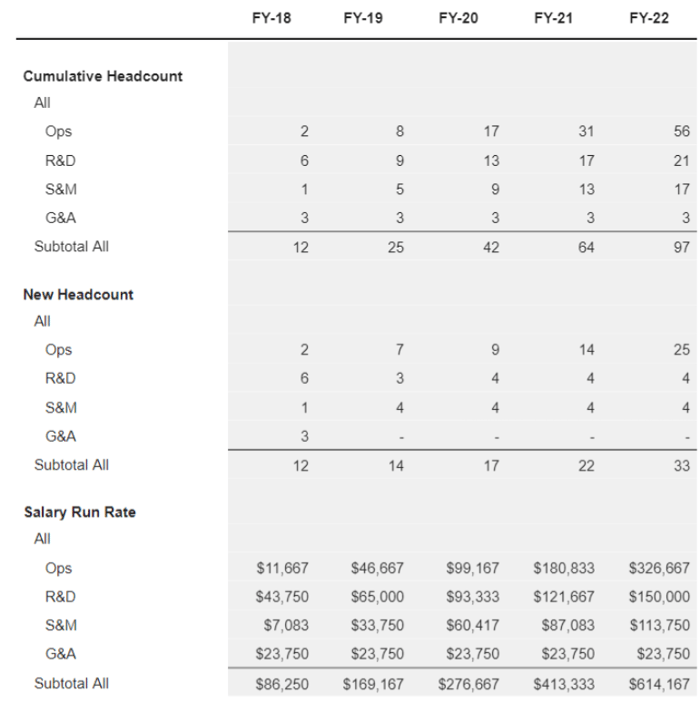 Model Build
Revenue Build
The revenue build is done through the Plans area. Timon Technologies has several sources of revenue; hardware products, subscription, setup and maintenance. The sprinkler system is a one-time expense for all new customers, and is bought up-front as Non-Recurring Revenue. Customers also enter a Timon Lite subscription providing Monthly Recurring Revenue for Timon Technologies. In January 2021 Timon releases the weather sensor along with the Timon Pro subscription, which provides a new revenue stream.

Staffing Plan
The staffing module helps us plan future hires. We can do specific hires as well as driver based hires. The pre-defined team are listed with name, department, hire date and salary.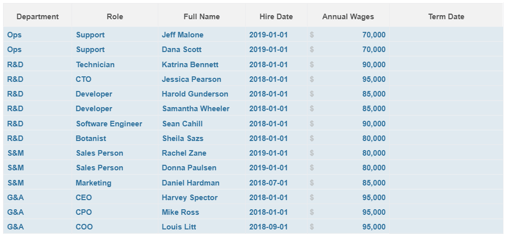 For driver based hires we assume that Timon needs to hire one support person in the operations department per 10 sprinkler systems sold. Another assumption is that Timon will hire one sales person and one technician every quarter. Since they are not selling anything in 2018 the technician driver does not start until Jan 2019.
For Timon the staffing roles and drivers looks like this:



Operating Expenses
Timon's operating expenses are mostly standard expenses such as benefits, advertising, taxes, legal, rent, travel & entertainment etc. Some of these are driven by headcount, as a function of revenue or a constant rate, while others are driven by revenue. There are multiple drivers for wages and advertising since they are changing when Timon receives funding.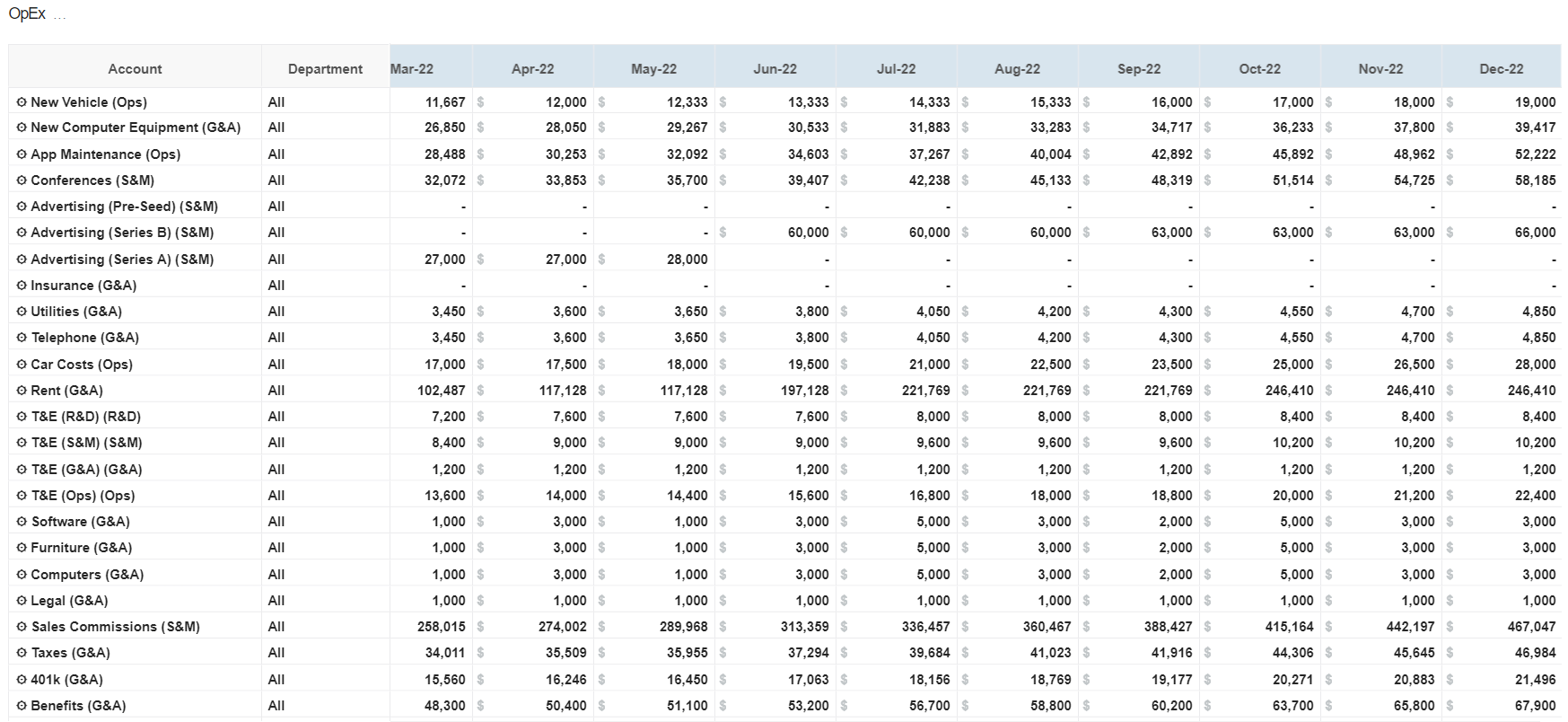 One example of an operating expense driver is T&E (S&M). How the driver is built is shown by double-clicking the driver name. The Travel & Entertainment for the Sales & Marketing department is in this case driven by headcount at a constant rate of $600.

Cost of Goods Sold
The costs of goods sold (the COGS) are the expenses directly related to the goods Timon sells. In this case, we have the bills of material for the sprinkler and the sensor, and web-hosting for both subscriptions. Timon's COGS drivers look like this:

An example of a COGS driver is the sprinkler COGS. Underneath you can see that the COGS is driven by sprinkler's bills of material multiplied with number of new sprinklers.

The COGS for setup and maintenance are defined through allocation drivers. The assumption here is that the operation departments spends 30% of their time doing setup, and 40% of their time doing maintenance work. The allocation driver therefore takes these percentages out of OpEx (Payroll & Related) and allocates them into COGS.

Inventory Tracking
One useful feature of this model is inventory management. Both sprinklers and sensors are bought so that the inventory consists of the next three months of sales. This means we have an asset driver increase every quarter. And we decrease it every month as we sell the inventory. The driver increase and decrease for sprinklers look like this: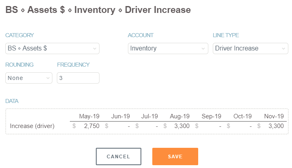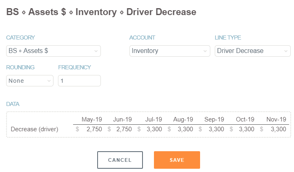 To monitor number and value of the inventory, we have created custom lines, and connected them together through global drivers.

The model is now saying that it takes last month's ending balance as starting balance this month (SB), adds new sprinklers, subtracts sold sprinklers and ends up with ending balance (EB) this month. This let's us plan and manage inventory and also keep track of it on the balance sheet.

Summary
As a first-time user of Jirav, the tool has been surprisingly simple to use. All the different features are tied together in an intuitive way, so by updating one factor you are updating the entire model and see how the changes roll up. Jirav provides a clean but in-depth overlook of the company, and unlike many other tools I have tried, I do not need to know any formulas or coding to make a financial model.
Timon has many features that are typical for hardware and subscription companies, to revenue, products, inventory etc. can all be tailored to similar companies. We can easily clone this model and customize it for a different IoT company quite easily!
Care to try building a financial model in Jirav? Start a free trial today: