Crunch time in the world of business — just as it is in sports — demands big-time performances from the entire team. But for as much talent as a team may possess, it's nearly impossible to succeed without the proper resources in place.
In the case of STR Helper, a compliance startup that offers an end-to-end platform for short-term leasing, developing a robust product for a booming industry was the easy part — laying the foundation for the business' next steps was different.
With revenue on the rise and expectations rising, the Austin-based company tapped Thomas Fasullo to serve as its acting CFO. Fasullo, a veteran finance professional and the founder of SavvySum (an accounting firm dedicated to software and ecommerce startups), was tasked with developing a system to offer more insights for leadership and, ultimately, a rock-solid financial model to help the company approach investors.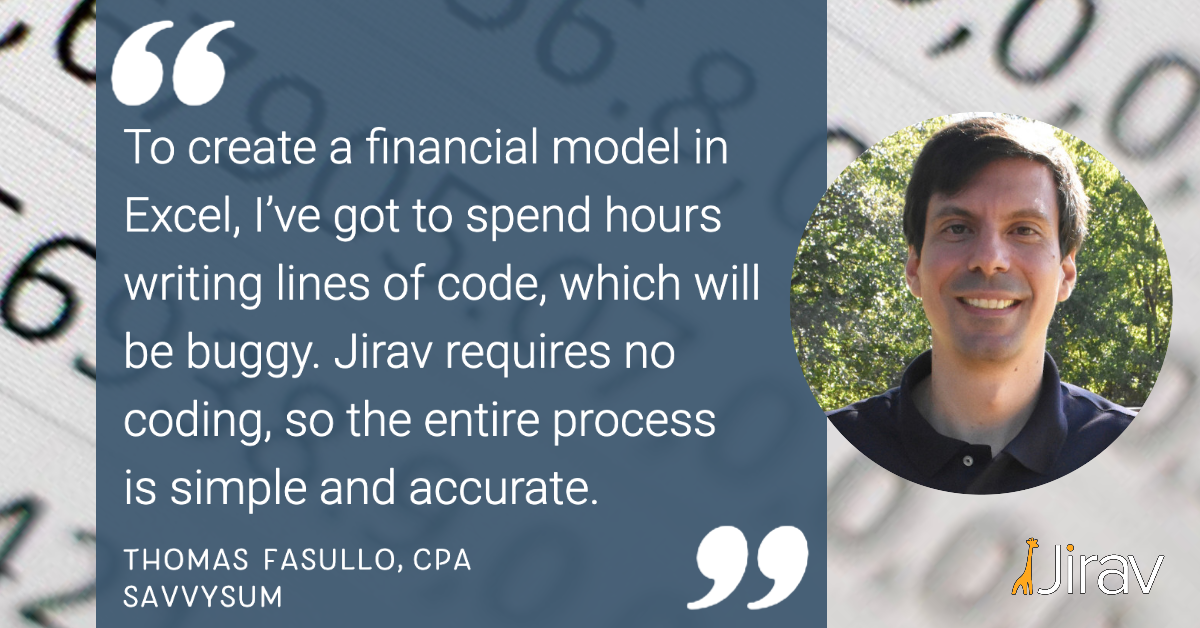 Having relied on Jirav while working with his other customers, Thomas was confident that it would pay off in a big way as STR Helper continued to scale.
Connecting Jirav to Xero and Gusto in just 30 seconds, Fasullo was able to add additional information from existing Excel sheets using simple templates, creating a live financial model for the business immediately.
"To create a financial model in Excel, I've got to spend hours writing lines of code, which will be buggy. Jirav requires no coding, so the entire process is simple and accurate," said Thomas.
A New Planning Tool
Without having to worry about allocating resources to build out complex models, Fasullo knew from his experience implementing Jirav just what the system would offer executives and potential investors. Now, Thomas and his team can create numerous scenarios, relying on a variety of assumptions and business drivers that the board and investors could digest on the fly.
"Budget versus actuals in real-time takes a lot of time, and in Jirav, it happens in less than 30 seconds," said Thomas. "I can show banks and investors multiple scenarios side by side in a way that makes it easy for outside investors to understand. It's a killer feature."
More Bang for Less Buck
With personalized dashboards and reports at the ready, Thomas and his team can translate highly complex data, key performance indicators (KPIs), and metrics in a visually appealing and easy-to-understand manner. This enables stakeholders to predict customer acquisition costs, reallocate resources as expectations evolve, and analyze budget vs actuals in real-time.
But even with such a robust platform in place, offering insights not previously imaginable (let alone available), Thomas admitted that he's still floored by Jirav's power at its price.
"Traditional enterprise modeling tools, such as Adaptive Insights, cost tens of thousands of dollars, which is not an option for most companies. Using Excel is also very expensive in terms of paying professionals several hours to create models plus ongoing costs to change and maintain it," said Thomas. "Jirav offers the same or better for hundreds per month with quicker implementation, no bugs, and a clean and simple user interface (UI). I can easily share data with outsiders in different views and know our data is safe from manipulation."
To see the total impact Jirav has had on STR Helper and SavvySum, ready the full case study.