Like many modern growth companies, Summit CPA, a virtual CFO accounting firm, relies on technology as the core enabler of its strategy. For years, that technology was a popular financial planning & analysis (FP&A) desktop-based solution, and until 2019, this method seemed to work for Summit.
The professionals at Summit meet with their clients every week, using FP&A technology to conduct in-depth modeling and forecasting activities and delivering other CFO-level services to help guide their businesses. "That kind of consistent, dependable attention has helped fuel our growth, and it's also part of the reason we have a 94% client retention rate," says Jody Grunden, Summit co-founder and CEO.
The search for a cloud-based solution
In 2019, the cracks were beginning to show within the desktop solution. "That year, after a big operating system update, we started to have a lot of file management problems," says Jake Grimm, Summit's Director of Technology. "Files were getting corrupted, we were having to find ways to restore previous versions, that kind of thing. That's when we started to take a serious look at cloud-based solutions."
In order to consistently enable the level of aggressive year-over-year growth Summit was experiencing – especially given the high-touch virtual model they deploy to serve clients – Summit needed a more dependable, cloud-based solution. And ongoing technical problems weren't the only reason Summit started looking for a new solution.
Although Summit presented its clients with lots of reporting and visualizations to support their forecasts, "clients still felt that the forecasts were in a black box," says Grimm. "They wanted to be able to zoom in for more detail, and our solution at the time just didn't support that."
Real-time, client-facing forecasting
After evaluating three of the top cloud-based financial planning and analysis solutions, including Jirav, firm leaders quickly gravitated to Jirav. With Jirav's cloud-based capabilities, Summit leaders no longer have to worry about spending time troubleshooting desktop-based technical problems. Plus, Jirav's transparency and visibility make it easy to address clients' longstanding "black box" concerns.
Discover how the solution is helping Summit deliver practical forecasting insights to their clients in real-time by reading the full case study.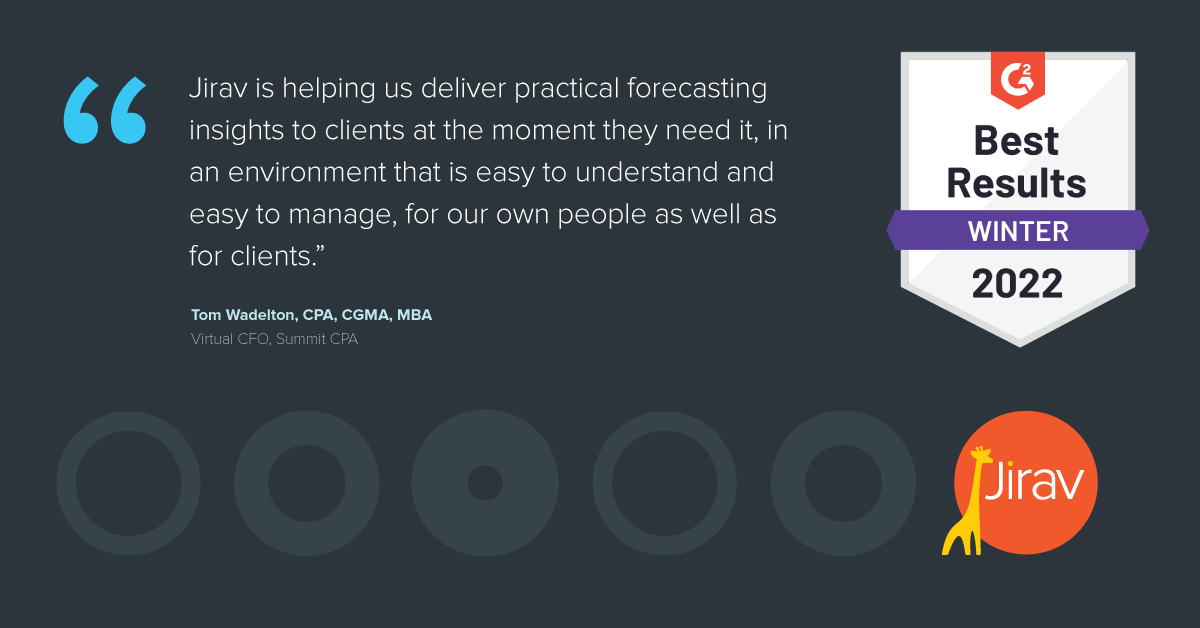 ---